Zapata Wren
Measuring about 16 centimetres in length, it is brown overall, though striped with black and with grayish underparts. Its tail is long.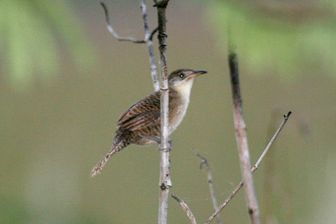 Picture of the Zapata Wren has been licensed under a Creative Commons
Attribution-Share Alike
.
Original source
: dominic sherony
Author
: dominic sherony
The Zapata Wren is classified as Endangered (EN), considered to be facing a very high risk of extinction in the wild.

The Zapata Wren, Ferminia cerverai, is a medium sized grayish-brown bird that lives in dense shrubs of the Zapata Swamp, Cuba. It is the only member of the monotypical genus Ferminia. Measuring about 16 centimetres (6.3 in) in length, it is brown overall, though striped with black and with grayish underparts. Its tail is long. The Zapata Wren is confined and endemic to the Zapata Peninsula of southern Cuba. More
The Zapata wren is a small, energetic bird found only in a small region of swamps in western Cuba. The short wings make it a poor flier; instead the Zapata wren skulks about on long legs and is thus often hard to observe. The plumage is rather drab; brown and finely barred with black above and brownish-white below (2). More
found nowhere else, the Zapata Wren, and also gives its name to the Zapata Sparrow. Due to ongoing habitat loss in its limited range, its small population size, and predation by introduced mammals and catfish, the Zapata Rail is evaluated as endangered on the IUCN Red List of threatened species. Tourism and climate change may pose threats in the future. More
The Zapata Wren, Ferminia cerverai, is a medium sized grayish-brown bird that lives in dense shrubs of the Zapata Swamp, Cuba. It is the only member of the ... en.wikipedia. More
Zapata Wren Canyon Wren Rock Wren Thryomanes Hylorchilus Cyphorhinus Cinnycerthia Microcerculus Henicorhina Giant Wren Cistothorus Troglodytes (wren) Thryothorus Cactus Wren Passerine Slender-billed Wren Mérida Wren Bicoloured Wren Nava's Wren Happy Wren Sinaloa Wren Peruvian Wren Grey Wren Fulvous Wren Bar-winged Wood-Wren Grey-barred Wren Munchique Wood-Wren Riverside Wren Sharpe's Wren Inca Wren Spotted Wren Southern Nightingale-Wren Boucard's Wren Tooth-billed Wren Stripe-throated Wren Black-bellied Wren External Searches: * Wikipedia More
and the highly restricted Zapata Wren in a single swamp in Cuba. The various species occur in a wide range of habitats, ranging from dry, sparsely wooded country to rainforest. The vast majority are found at low levels, but some members of the genus Campylorhynchus and both members of the genus Odontorchilus are commonly found at canopy height. A few species, notably the Winter Wren and the House Wren, are often associated with humans. More
For the purposes of our bird news services, Zapata Wren is classed as Ungraded: species which are unlikely to appear as wild birds in Britain or Ireland hide section Most recent photos of Zapata Wren (2) Zapata Marsh, Matanzas, Cuba Zapata Marsh, Matanzas, Cuba10/04/2008 Zapata Marsh, Matanzas, Cuba 10/04/2008 Zapata Marsh, Matanzas, Cuba Zapata Marsh, Matanzas, Cuba10/04/2008 Zapata Marsh, Matanzas, Cuba 10/04/2008 View all pictures of Zapata Wren View all pictures of Zapata Wren More
family The Zapata Wren, Ferminia cerverai, is a medium sized grayish-brown bird that lives in dense shrubs of the Zapata Swamp, Cuba. The New World is one of the names used for the non-Eurasian/non-African parts of the Earth specifically the Americas and Australia. In Biological classification, family ( Latin There are about 80 species of true wrens in about 20 genera, though the name is also ascribed to other unrelated birds throughout the world. More