Black-lored Babbler
As defined here, it consists of two populations with widely separated ranges, one in northwestern Botswana, northern Namibia,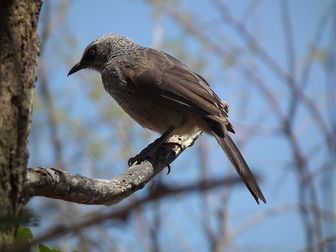 Picture of the Black-lored Babbler has been licensed under a Creative Commons
Attribution-Share Alike
.
Original source
: Own work
Author
: Nevit Dilmen (talk)Camera location
The Black-lored Babbler is classified as Least Concern. Does not qualify for a more at risk category. Widespread and abundant taxa are included in this category.

For the purposes of our bird news services, Black-lored Babbler is classed as Ungraded: species that are unlikely to appear as wild birds in Britain or Ireland hide section Most recent photos of Black-lored Babbler (3) Roy's Camp, Namibia Roy's Camp, Namibia28/10/2006 Roy's Camp, Namibia 28/10/2006 Roy's Camp, Namibia Roy's Camp, Namibia28/10/2006 Roy's Camp, Namibia 28/10/2006 Lake Naivasha, Kenya Lake Naivasha, Kenya28/11/2009 Lake Naivasha, Kenya 28/11/2009 View More
Black-lored Babbler The Black-lored Babbler (Turdoides melanops) is a species of songbird in the Timaliidae family.As defined here, it consists of two populations with widely separated ranges, one in northwestern Botswana, northern Namibia, and Angola; the other in southwestern Kenya, Tanzania, Uganda, Burundi, Rwanda, and the part of the Democratic Republic of the Congo immediately adjacent to the three last-named countries. Like other Turdoides, it is found low or on the ground in or near dense woody vegetation, including in cultivated areas. More