Chestnut-faced Babbler
The Chestnut-faced Babbler is a medium sized babbler, 15 cm in length and weighing between 17-28 g. The plumage of this species is not sexually dimorphic, that of juveniles has not been described. They have a chestnut face with a grey crown and nape, and an incomplete white eye ring. The wings and tail are olive-brown and the flanks paler olive, tending towards buff-yellow on the breast. The subspecies Z. w. sorsogonensis is similar, but the crown and nape are edged in black. The call is described as rapid, busy and metallic.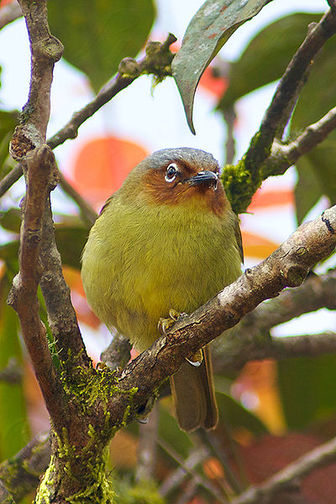 Picture of the Chestnut-faced Babbler has been licensed under a
GFDL
Original source
: Llimchiu
Author
: Llimchiu
Permission
: GNU Free Documentation License
The Chestnut-faced Babbler is classified as Least Concern. Does not qualify for a more at risk category. Widespread and abundant taxa are included in this category.

The Chestnut-faced Babbler (Zosterornis whiteheadi) is a species of bird in the Old World babbler family Timaliidae. It is endemic to the island of Luzon in the Philippines. There are two subspecies, Z. w. whiteheadi in northern and central Luzon, and Z. w. sorsogonensis in south eastern Luzon. The species is generally found in mountain forests, generally above 1000 m (although occasionally down to 100m. More
Chestnut-faced Babbler (Zosterornis whiteheadi) = Chestnut-faced Babbler (Zosterornis whiteheadi) An endemic philippine bird seen only in the island of Luzon. More
Chestnut-faced Babbler (Zosterornis whiteheadi) Views: 5Comments: 0Favorited: 000:00:42ShortNature13 months ago Not Rated YetNot Rated YetNot Rated YetNot Rated YetNot Rated Yet0votes Tags: babbler bird chestnut-faced philippine wild Equipment: Luis Limchiu Quezon city, , Philippines Contact Member Member Bio Member Skills/Specialization Bio close Specializations close FriendsFriendsFavoritesVideosPhotosMusicScriptsBlogsJournalsBlogsTutorialsArticlesReviewsAssetsVideosPhotosMusicScriptsAlbums Privacy Policy | Terms Of Service | Contact Us | Support | Help/FAQ | News NewsAllAnnouncementsNew More
Chestnut-faced Babbler (Zosterornis whiteheadi) = French: Timalie de Whitehead German: Brillenstreifentimalie Spanish: Timalí de Whitehead Other common names: Whitehead's Babbler/Tree-babbler Taxonomy: Zosterornis whiteheadi Ogilvie-Grant, 1894, mountains of northern Luzon, Philippines. Genus usually merged into Stachyris. Two subspecies recognized. Subspecies and Distribution: * whiteheadi Ogilvie-Grant, 1894 - N & C Luzon, in N Philippines. More
* Video preview image Chestnut-faced Babbler (Zosterornis whiteheadi) Chestnut-faced Babbler is an philippine endemic bird found only in Luzon Island. They prefer mountain areas and make loud whistl Luzon, Philippines 10 April 2009 15 April 2009 43 sec 2. More
Chestnut-faced Babbler Stachyris whiteheadi = Described by: Ogilvie-Grant (1894) Alternate common name(s): Whitehead's Babbler, Whitehead's Tree-babbler Old scientific name(s): None known by website authors Photographs Mount Polis, Luzon, Philippines - Feb, 2007 More
Chestnut-faced Babbler Stachyris whiteheadi whiteheadi Chestnut-faced Babbler Photographer : More
* Chestnut-faced Babbler, Stachyris whiteheadi * Luzon Striped Babbler, Stachyris striata * Panay Striped Babbler, Stachyris latistriata * Negros Striped Babbler, Stachyris nigrorum * Palawan Striped Babbler, Stachyris hypogrammica * White-breasted Babbler, Stachyris grammiceps * Sooty Babbler, Stachyris herberti More
Chestnut-faced Babbler Stachyris whiteheadi 2009 IUCN Red List Category (as evaluated by BirdLife International - the official Red List Authority for birds for IUCN): Least Concern Justification Although this species may have a restricted range, it is not believed to approach the thresholds for Vulnerable under the range size criterion (Extent of Occurrence 30% decline over ten years or three generations). More
heard on the 2 days), Elegant Tit, Chestnut-faced Babbler (>20), Luzon Water-redstart (1 pair), Pied Bushchat, Scaly Thrush, Island Thrush (a few seen an on bird in a snare, released), Mountain Leaf-warbler, Mountain Tailorbird, Luzon Bush-warbler (common), Long-tailed Ground-warbler (3 seen and frequently heard), Blue-headed Fantail, Green-backed Whistler (+/- 7), Mountain Shrike (3), Metallic-winged Sunbird (1 male), Flame-crowned Flowerpecker (1 male), Mountain White-eye (+/- 8), White-cheeked Bullfinch (2) * Road Baler – Talatay Watershed Birds: Philippine Serpent-eagle, Scale-feathered Malkoha (1), More
The Chestnut-faced Babbler is a medium sized babbler, 15 cm in length and weighing between 17-28 g. The plumage of this species is not sexually dimorphic, that of juveniles has not been described. They have a chestnut face with a grey crown and nape, and an incomplete white eye ring. The wings and tail are olive-brown and the flanks paler olive, tending towards buff-yellow on the breast. The subspecies Z. w. sorsogonensis is similar, but the crown and nape are edged in black. More
Chestnut-faced Babbler Stachyris whiteheadi = Mount Polis, Luzon, Philippines - Feb, 2007 More
Chestnut-faced Babbler, Philippines, Mt Polis may 2009 © Paul Noakes another not so good photo but a rare bird Chestnut-faced Babbler - Showing Records 1 through 1 of 1 Total Records More
CHESTNUT-FACED BABBLER Mount Polis - a Luzon montane endemic MOUNTAIN SHRIKE Mount Polis - an endemic of the high mountains. 8th March: Subic Bay (LUZON) Lowland Forest Having begun the tour in the high Cordillera Mountains of northern Luzon we headed south, heading for the distinctly more humid lowland forests around the naval magazine at Subic Bay, on the Bataan Peninsula. More
Chestnut-faced Babbler (Zosterornis whiteheadi)by Luis Limchiu 1 year ago 1 year ago: Mon, Apr 13, 2009 10:06pm EST (Eastern Standard Time) More More See all Show meLuis Limchiu's videos * Luis Limchiu's videos * Staff Picks 8. Luzon (Tarictic) Hornbill Penelopides manillae by Luis Limchiu1 year ago 7. Chestnut-faced Babbler (Zosterornis whiteheadi) by Luis Limchiu1 year ago 6. Pygmy Flowerpecker (Dicaeum pygmaeum) Subadult by Luis Limchiu1 year ago 5. More
format Chestnut-faced Babbler (Zosterornis whiteheadi) 1 year ago Babbler3 - Start/How to translate you 3 years ago Babbler3 - How to translate others. 3 years ago Advertisement Do more with tags Hey, did you know you can subscribe to this tag and all these videos will show up in your inbox? Just click on the "Subscribe" button above and never miss a video with this tag again. More