Spotted Babbler
This bird is a common resident breeder in the Himalayas and the hills of Pakistan and India and parts of southeast Asia. Like most babblers, it is not migratory, and has short rounded wings and a weak flight. Its habitat is scrub and bamboo thickets, where it builds its nest on the ground, laying 2-5 eggs.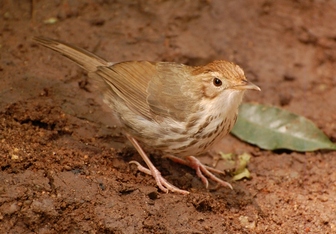 Picture of the Spotted Babbler has been licensed under a Creative Commons
Attribution-Share Alike
.
Original source
: Nanda rameshCamera location
Author
: Nanda rameshCamera location
The Spotted Babbler is classified as Least Concern. Does not qualify for a more at risk category. Widespread and abundant taxa are included in this category.

Call of Spotted Babbler Pellorneum ruficeps made in Nagerhole Date 2005(2005) Source self published Author L. Shyamal Permission (Reusing this file) cc-by-2. More
The Burmese Spotted Babbler breeds pretty well over the whole of Pegu and Tenasserim. Mr. Oates writes: "On the 3rd May I found a nest on the ground near Pegu. A good many bamboo-leaves had fallen and the nest was imbedded in these. It was formed entirely of these leaves loosely put together, the interior only being sparingly lined with fine grass. The structure in situ was tolerably firm, but it would not stand removal. More
striped jungle babbler, or spotted babbler (Pelloreum ruficeps), of Southeast Asia—16 centimetres (6 1/4 inches) long, with reddish cap, white eyeline, dark-greenish back, and streaked white breast. It is usually detected by its loud two-note whistle. Learn more about "jungle babbler" Citations - MLA Style: "jungle babbler." Encyclopædia Britannica. 2010. Encyclopædia Britannica Online. 17 May. 2010 . APA Style:jungle babbler. (2010). In Encyclopædia Britannica. More