Black-throated Parrotbill
It is found in Bhutan, China, India, Laos, Myanmar, Thailand, and Vietnam. Its natural habitat is subtropical or tropical moist montane forests.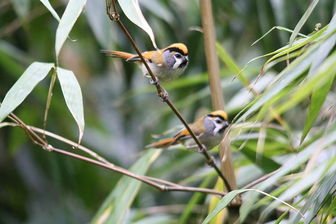 Picture of the Black-throated Parrotbill has been licensed under a Creative Commons
Attribution-Share Alike
.
Original source
: Bhaskarjbarua
Author
: Bhaskarjbarua
The Black-throated Parrotbill is classified as Least Concern. Does not qualify for a more at risk category. Widespread and abundant taxa are included in this category.

The Black-throated Parrotbill (Paradoxornis nipalensis) is a bird species often placed with the Old World babblers (family Timaliidae) or in a distinct family Paradoxornithidae, but it actually seems to belong to the Sylviidae. It is found in Bhutan, China, India, Laos, Myanmar, Thailand, and Vietnam. Its natural habitat is subtropical or tropical moist montane forests. References - * BirdLife International 2004. Paradoxornis nipalensis. More
* Black-throated Parrotbill, Paradoxornis (Suthora) nipalensis * Blyth's Parrotbill, Paradoxornis (Suthora) (nipalensis) poliotis * Golden Parrotbill, Paradoxornis (Suthora) verreauxi Incertae sedis * Short-tailed Parrotbill, Paradoxornis (Neosuthora) davidianus Paradoxornithinae? - Conceivably, the parrotbills and their closest relatives might be considered a distinct subfamily Paradoxornithinae; they appear to form More
Black-throated Parrotbill (Paradoxornis nipalensis) = French: Paradoxornis à menton noir German: Grauohr-Papageimeise Spanish: Picoloro Gorjinegro Other common names: Ashy-eared/Nepal/Orange Parrotbill, Orange Suthora; Black-eared Parrotbill (beaulieui and kamoli); Buff-breasted Parrotbill (ripponi and patriciae); Grey-breasted Parrotbill (poliotis and feae); Grey-capped Parrotbill (nipalensis and garhwalensis); Orange-eared Parrotbill (humii) Taxonomy: Parus [] Suthora Nipalensis Hodgson, 1837, Kathmandu Valley, Nepal. Sometimes placed together with P. conspicillatus, P. webbianus, P. More
BLACK-THROATED PARROTBILL * Paradoxornis nipalensis * 10 cms previous Click here to comment on this image next Site Map Oriental Bird Club Copyright of all images is retained by Vijay Cavale and respective copyright owners. More
Black-throated Parrotbill Paradoxornis nipalensis poliotis Black-throated Parrotbill Photographer : More
Black-throated Parrotbill Paradoxornis nipalensis = Described by: Hodgson (1837) Alternate common name(s): Blyth's Parrotbill, Ashy-eared Parrotbill, Gray-eared Parrotbill, Grey-eared Parrotbill, Black-fronted Parrotbill, Gray-cheeked Parrotbill, Grey-cheeked Parrotbill, Orange Parrotbill, Nepal Parrotbill, Golden Parrotbill Old scientific name(s): None known by website authors Photographs Mishmi Hills, Arunachal Pradesh, India - Nov, 2008 More
Black-throated Parrotbill (Paradoxornis nipalensis) is a local resident in Himalayas and hills of north-east India. More
Black-throated Parrotbill Paradoxornis nipalensis = Mishmi Hills, Arunachal Pradesh, India - Nov, 2008 More
Black-throated Parrotbill Forward | Print | Individual message | Show original | Report this message | Find messages by this author Hello friends, Record Shot of the Black-throated Parrotbill on the Lava-Chowdaferi Road, 07.05.2010. Again a lifer for me. - Regards Biswapriya - You received this message because you are subscribed to the Google Groups "delhibirdpix" group. To post to this group, send email to delhibirdpix@googlegroups.com. More
Black-throated Parrotbill Forward | Print | Individual message | Show original | Report this message | Find messages by this author Eaglenest. When they move in groups they travel at bullet speed and they are so tiny. I composed it in such a way to show their habitat (Bamboo clutters). Kind regards, Clement www.clementfrancis.com BTPB. More
* 1 1 8 16 Black-throated Parrotbill (Paradoxornis nipalensis) * 1 1 8 17 Golden Parrotbill (Paradoxornis verreauxi) * 0 8 18 Short-tailed Parrotbill (Paradoxornis davidianus) * 1 1 8 19 Lesser Rufous-headed Parrotbill (Paradoxornis atrosuperciliaris) * 3 1 1 1 8 20 Greater Rufous-headed Parrotbill (Paradoxornis ruficeps) * 8 1 4 3 6 21 Reed Parrotbill (Paradoxornis heudei) More
Black-throated Parrotbill 2375 Paradoxornis atrosuperciliaris Lesser Rufous-headed Parrotbill2393 Mirafra assamica Bengal Bushlark 2411 Calandrella raytal Sand Lark 2416 Alauda gulgula Oriental Skylark 2442 Dicaeum concolor Plain Flowerpecker 2449 Dicaeum ignipectus Fire-breasted Flowerpecker 2454 Dicaeum cruentatum Scarlet-backed Flowerpecker 2459 Anthreptes singalensis Ruby-cheeked Sunbird 2479 Aethopyga nipalensis Green-tailed Sunbird 2482 Aethopyga saturata Black-throated Sunbird 2486 Aethopyga ignicauda Fire-tailed Sunbird 2495 Arachnothera magna Streaked Spiderhunter 2498 Passer domesticus House Sparrow 2501 Passer rutilans Russet Sparrow 2504 Passer montanus More
transformed into a large flock of Black-throated Parrotbills which came closer and closer until they were literally all around us, feeding at super-close range until they again melted away into the bamboo. Distinctive calls allowed us to positively identify a Bianchi's Warbler – another split from the former 'Golden-spectacled' Warbler and the first, but expected record from Myanmar. More