Liocichla bugunorum
The Bugun Liocichla is a small babbler with olive-grey plumage and a black cap. The face is marked with prominent orange-yellow lores, and the wings have yellow, red and white patches. The tail is black with crimson coloured undertail coverts and red tips. The feet are pink and the bill is black at the face fading to pale white. A second duller individual was mist netted, which was probably the female. The voice is described as fluty and distinctive.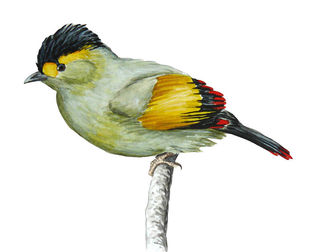 Picture of the Liocichla bugunorum has been licensed under a
GFDL
Original source
: Edweed
Author
: Edweed
Permission
: GNU Free Documentation License
The Liocichla bugunorum is classified as Vulnerable (VU), considered to be facing a high risk of extinction in the wild.

The Bugun Liocichla, Liocichla bugunorum, is a passerine bird species from the Old World babbler family closely related to the Grey-faced Liocichla. First spotted in 1995, it was described as a new species in 2006 by Ramana Athreya. The description was made without the collection of a type specimen as they were too few to risk killing one. More
Bugun Liocichla, Liocichla bugunorum is a passerine bird that belongs to the Old World babbler (Asian babbler) family. The cuddly, spanking new bird has an esoteric m?lange of colours ? flaming orange, yellow, shades of red, black, brown, olive, grey, white, flesh pink; an admix to brand it ? a ? rara avis?, meaning a rarity of an exceptional occurrence. Bugun Liocichla is a small babbler (22cm) with olive-grey plumage donning a black cap. The face bears orange-yellow lores. More