Silver-eared Mesia
The Silver-eared Mesia is a species of bird in the Timaliidae family. It is found in Bangladesh, Bhutan, Cambodia, China, India, Indonesia, Laos, Malaysia, Myanmar, Thailand, and Vietnam.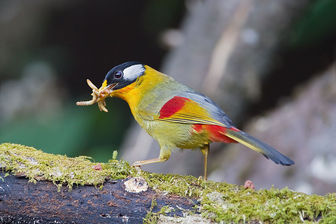 Picture of the Silver-eared Mesia has been licensed under a Creative Commons
Attribution-Share Alike
.
Original source
: Own work
Author
: JJ Harrison (http://www.noodlesnacks.com/)Camera location
The Silver-eared Mesia is classified as Least Concern. Does not qualify for a more at risk category. Widespread and abundant taxa are included in this category.

The Silver-eared Mesia (Leiothrix argentauris) is a species of bird in the Timaliidae family. It is found in Bangladesh, Bhutan, Cambodia, China, India, Indonesia, Laos, Malaysia, Myanmar, Thailand, and Vietnam. LeiothrixArgentaurisGould.jpg Mesia3.jpg References - Search Wikimedia Commons Wikimedia Commons has media related to: Leiothrix argentauris * BirdLife International 2004. Leiothrix argentauris. 2006 IUCN Red List of Threatened Species. Downloaded on 26 July 2007. More
Silver-eared Mesia Leiothrix argentauris tahanensis - Female Silver-eared Mesia Photographer : More
This male Silver-Eared Mesia landed with something on his mouth... Silver-eared Mesia BehaviorThe female also likes to have some... Silver-eared Mesia Behaviorhere the close-up of the food in his beak... Silver Mesia FeedingThe female became angry when the male swallowed the food without sharing... Silver-eared Mesia Behavioryou stingy! Silver-eared Mesia BehaviorShe pulled his feather really hard... Silver-eared Mesia BehaviorNext time you better give me... Silver-eared Mesia BehaviorAt 9. More
Silver-eared Mesia (Leiothrix argentauris) is a local resident in Himalayas and hills of north-east India. Size: 15 cm Weight: 15 gm Identification: Both male and female of Silver-eared Mesia are olive on the dorsal aspect and yellow on the ventral aspect. The crown area is black, ear patches are silver, and there is minimal crimson color on the tail. The bill of both the male and female birds is yellow and made of culmen, an upper and lower mandible is present. More
Silver-eared Mesias are distributed from the Eastern Himalayas in India to Western China, ranging South, down through Indo-China to Malaysia and Sumatra. They also reside in North, Northeast Indian subcontinent, Southwest China and Southeast Tibet. They live in bushes on the edge of broadleaved forest, secondary growth, jungle and scrub at elevations of 500-2,000 m To take full advantage of Flickr, you should use a JavaScript-enabled browser and install the latest version of the Macromedia Flash Player. More
Silver-eared Mesias become uneasy when they are alone in captivity. They are easily trained to become tame in an aviary environment. In one observed captive group, a pair of male and female elders encaged with a younger mixed sex pair demonstrated territoriality. The two cocks were observed singing in a competitive fashion. Eventually the elder cock stopped singing altogether and the younger cock continued singing. More
The silver-eared mesia is closely related to a much better known avicultural subject, the Pekin robin (Leiothrix lutea). Both belong to the family Sylviidae and tribe Timaliini, the babblers. Babblers embrace a great diversity of genera with birds of many sizes, shapes and colors to the point were one taxonomist once remarked that this is a catch-all for species nobody could figure out where else to put them. More