Fulvous-crested Tanager
It is found in Brazil, Colombia, Ecuador, French Guiana, Guyana, Peru, Suriname, and Venezuela. Its natural habitat is subtropical or tropical moist lowland forests.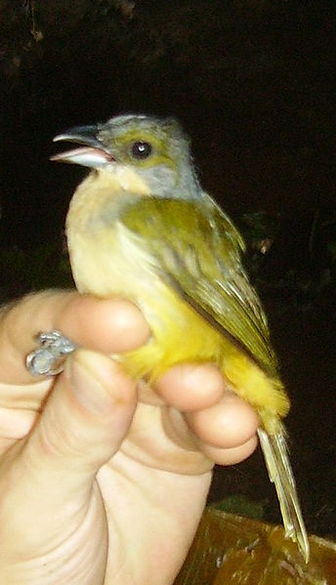 Picture of the Fulvous-crested Tanager has been licensed under a
GFDL
Original source
: Erfil
Author
: Erfil
Permission
: GNU Free Documentation License
The Fulvous-crested Tanager is classified as Least Concern. Does not qualify for a more at risk category. Widespread and abundant taxa are included in this category.

The Fulvous-crested Tanager (Tachyphonus surinamus) is a species of bird in the Thraupidae family, the tanagers. It is found in Brazil, Colombia, Ecuador, French Guiana, Guyana, Peru, Suriname, and Venezuela. Its natural habitat is subtropical or tropical moist lowland forests. The Fulvous-crested Tanager is found in the entire Amazon Basin, but only the downstream third of the southern half, in the southeast and southwest. More
We had this Fulvous-crested Tanager at the Capuchinbird Rd area. We had several 'Tachyphonus' Tanagers on the trip, including: White-lined Tanager (most numerous, 7 days) Flame-crested Tanager Fulvous-crested Tanager Red-shouldered Tanager White-shouldered Tanager Panasonic Lumix DMC-FZ30 ,Minolta ACT-100 1. More
Fulvous-crested tanager in Suriname fulvous-crested tanager First a photo of a fulvous-crested tanager made by Foek Chin Joe at Afobaka in October 2006. Then photos of a male made in the birdcage of the Luchmun family, Paramaribo Suriname (Ribot). Notice the two-toned bill of the male. More
In nature, the fulvous-crested tanager travels in couples or in family groups. Sometimes, it can be found with other species, forming multi-species groups which move from tree to tree according to what they find in the way of new food resources. Normally, it is found at 0 to 500 metres altitude in the eastern part of its range. In Venezuela, it can be found up to 1 400 metres. More
The fulvous-crested tanager nests near running water in undergrowth with numerous shrubs and small palms. It builds its nest in the form of a deep cup. The eggs are turquoise-blue with black spots. Diet The fulvous-crested tanager has an extremely varied diet. More