White-shouldered Tanager
It occurs in forests and cocoa plantations. The bulky cup nest is built in low vegetation, and the female lays three brown-blotched cream eggs.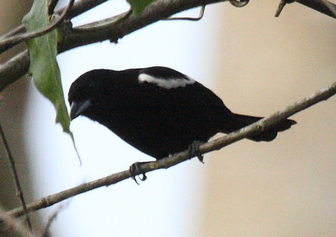 Picture of the White-shouldered Tanager has been licensed under a Creative Commons
Attribution-Share Alike
.
Original source
: originally posted to Flickr as White-shouldered Tanager
Author
: Dominic SheronyPermission(Reusing this file)This image, which was originally posted to Flickr.com, was uploaded to Commons using Flickr upload bot on 17:47, 21 April 2010 (UTC) by Howcheng (talk). On that date it was licensed under the license below. This file is licensed under the Creative Commons Attribution-Share Alike 2.0 Generic license.You are free:to share – to copy, distribute and transmit the work
The White-shouldered Tanager is classified as Least Concern. Does not qualify for a more at risk category. Widespread and abundant taxa are included in this category.

The White-shouldered Tanager, Tachyphonus luctuosus, is a medium-sized passerine bird. This tanager is a resident breeder from Honduras to Panama, South America south to Ecuador and southern Brazil, and on Trinidad. It occurs in forests and cocoa plantations. The bulky cup nest is built in low vegetation, and the female lays three brown-blotched cream eggs. White-shouldered Tanagers are 14 cm long and weigh 14 g. They are long-tailed and with a mostly black stout pointed bill. More
The White-shouldered Tanager's song is a fast repetitive tchirrup. Copyright: Wikipedia. This article is licensed under the GNU Free Documentation License. It uses material from Wikipedia.org - Photo, Video and/or Article contributions are welcome! Please click here for info The Avianweb strives to maintain accurate and up-to-date information; however, mistakes do happen. If you would like to correct or update any of the information, please send us an e-mail. More
The White-shouldered Tanagers song is a fast repetitive tchirrup. References Database entry includes justification for why this species is of least concern Birds of Venezuela by Hilty, ISBN 0-7136-6418-5 Didn't find what you were looking for. Need more information for your travel research or homework? Ask your questions at the forum about Birds of Colombia or help others to find answers. This article is licensed under the GNU Free Documentation License. More
White-shouldered Tanager (Tachyphonus luctuosus) by Don Jones. More
White-shouldered Tanager*, several Swallow-tailed Kite, a group of 15 Painted Parakeet, a dead Band-rumped Swift (picture taken). Afterwards, in the more arid region we saw Yellow-rumped Cacique, Smooth-billed Ani, Scarlet Macaw, Black Vulture, White-winged Swallow, Crested Caracara, Great Egret. In this savanna area, at c. km 111 (counting from Ciudad Guyana here), we had a pleasant lunch stop at Bodega Los Aceiticos (the last bodega of about 4). More