Crimson-backed Tanager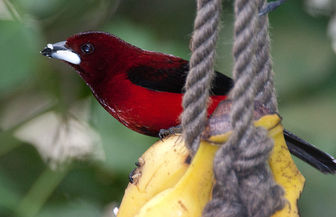 Picture of the Crimson-backed Tanager has been licensed under a Creative Commons
Attribution
.
Original source
: originally posted to Flickr as Crimson-backed Tanager (Ramphocelus dimidiatus)
Author
: Brian GratwickePermission(Reusing this file)This image, which was originally posted to Flickr.com, was uploaded to Commons using Flickr upload bot on 22:18, 8 November 2009 (UTC) by Snowmanradio (talk). On that date it was licensed under the license below.This file is licensed under the Creative Commons Attribution 2.0 Generic license.You are free:to share – to copy, distribute and transmit the work
The Crimson-backed Tanager is classified as Least Concern. Does not qualify for a more at risk category. Widespread and abundant taxa are included in this category.

The Crimson-backed Tanager (Ramphocelus dimidiatus) is a species of bird in the Thraupidae family. It is found in Colombia, French Polynesia, Panama, and Venezuela. Its natural habitats are subtropical or tropical moist lowland forests and heavily degraded former forest. References - 1. ^ BirdLife International (2008). Ramphocelus dimidiatus. In: IUCN 2008. IUCN Red List of Threatened Species. Downloaded on 25 July 2009. More
Crimson-backed tanager, Male by Gualberto107 on flickr.com Beautiful Tanager. Tags: Nature, Environment, birds, Endangered Species, bird, Wildlife, birding, Farming, World, tropical, tropics, Climate Change, Rainforest, fauna, PANAMA, backed, crimson, tanage Photo PropertiesNP! ID: 2037340Title: Crimson-backed tanager, MaleFile Size: 500 × 329 – 76. More
The Crimson-backed Tanager (Ramphocelus dimidiatus) is a species of bird in the Thraupidae family. Image taken at the Summit Garden Nature Park in Panama. More