Barred Antshrike
The Barred Antshrike is typically 16.5 cm long, and weighs 25 g. The male is barred all over with black and white, and has a white-based black crest that is raised in display. The female is rufous above with a chestnut crest. The sides of her head and neck are streaked with black, and the underparts are rich buff.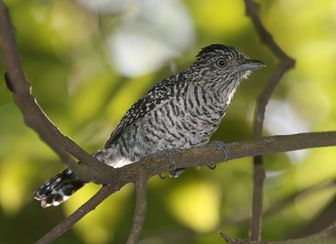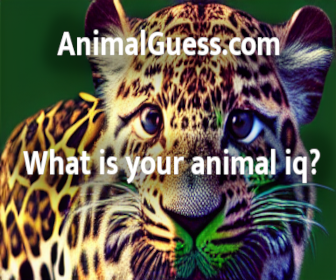 Picture of the Barred Antshrike has been licensed under a Creative Commons
Attribution
.
Original source
: originally posted to Flickr as choca-barrada macho / Barred Antshrike male (thamnophilus doliatus)
Author
: Wagner Machado Carlos LemesPermission(Reusing this file)This image, which was originally posted to Flickr.com, was uploaded to Commons using Flickr upload bot on 14:22, 31 January 2010 (UTC) by Snowmanradio (talk). On that date it was licensed under the license below.This file is licensed under the Creative Commons Attribution 2.0 Generic license.You are free:to share – to copy, distribute and transmit the work
The Barred Antshrike is classified as Least Concern. Does not qualify for a more at risk category. Widespread and abundant taxa are included in this category.

The Barred Antshrike is usually seen in pairs, the rufus coloured female not far behind the black and white male, calling in a distinctive chuckling More
The Barred Antshrike, Thamnophilus doliatus, is a passerine bird in the antbird family. It is found in the Neotropics from Tamaulipas, Mexico, through Central America, Trinidad and Tobago, and a large part of South America east of the Andes as far south as northern Argentina, Bolivia and Paraguay. There is one accepted record from southern Texas. It is found in a wide range of wooded habitats (even gardens and parks) in both humid and arid regions. More
the widespread Barred Antshrike Thamnophilus doliatus, and for many years it was considered to be only a subspecies of Barred. Recent research has documented that the Chapman's Antshrike is a distinct species, but one that is very little studied. * Identification Recommended Citation Schulenberg, Thomas S. 2010 .Chapman's Antshrike (Thamnophilus zarumae), Neotropical Birds Online (T. S. Schulenberg, Editor). Ithaca: Cornell Lab of Ornithology; retrieved from Neotropical Birds Online: http://neotropical.birds.cornell. More
The Barred Antshrike is typically 16.5 cm long, and weighs 25 g. The male is barred all over with black and white, and has a white-based black crest that is raised in display. The female is rufous above with a chestnut crest. The sides of her head and neck are streaked with black, and the underparts are rich buff. The subspecies vary primarily in the overall darkness and the amount of barring and hue of the underparts. More
Barred Antshrike FeatherThe other day I found the feather shown at the right. Not many bird species possess the spectacular black- and-white, Zebra-stripe barring such feathers impart. I could think of just two local candidates. One is the Golden-fronted Woodpecker, closely related to the North's Red-bellied Woodpecker, whose back is bared with narrow, black and white stripes. The other possibility is the Barred Antshrike. More
For the purposes of our bird news services, Barred Antshrike is classed as Ungraded: species which are unlikely to appear as wild birds in Britain or Ireland hide section Most recent photos of Barred Antshrike (4) Near Yacambu, Venezuela Near Yacambu, Venezuela23/02/2010 Near Yacambu, Venezuela 23/02/2010 Asa Wright Nature Centre, Trinidad, Trinidad and Tobago Asa Wright Nature Centre, Trinidad, Trinidad and Tobago27/08/2009 Asa Wright Nature Centre, Trinidad, Trinidad and Tobago 27/08/2009 Adventure Farm, Tobago, More
Barred Antshrikes follow columns of army ants, eating as it goes, and will take small lizards ocassionally. It is a shy bird, often skulking in nearby cover and usually is located by its chuckling hu-hu-hu-hu-hu-hu song, often performed as a duet by a pair of birds, or a growled graaaaa. Found in Free Downloads Retrieved from "http://www.empken.com/wiki/index. More
The Barred Antshrike is a distinctive bird with an expressive crest, raised when the bird is anxious, annoyed or curious. Like most Antshrikes they are easy to overlook, but they are heard often. Learn the voice and you may be surprised to find them in the middle of Asunci More
Male Barred Antshrike at Feeder = Male Barred Antshrike at Feeder by TaranRampersad. To take full advantage of Flickr, you should use a JavaScript-enabled browser and install the latest version of the Macromedia Flash Player. Would you like to comment? Sign up for a free account, or sign in (if you're already a member). Guest Passes let you share your photos that aren't public. More
Similar to Hummingbirds the Barred Antshrike is a stickler for punctuality. This male would hop out from tall grass to take a nibble or two of bread before skulking off again within ten minutes of five pm each day. photograph courtesy & copyright More
Barred Antshrike by Gualberto107 on flickr.com Tags: Nature, Environment, birds, Endangered Species, bird, Wildlife, birding, Farming, World, tropical, tropics, Climate Change, Rainforest, fauna, PANAMA, barred, antshrike Photo PropertiesNP! ID: 2037347Title: Barred AntshrikeFile Size: 500 × 338 – 78. More