Black-crested Antshrike
This is a bird of undergrowth in mangrove or other swampy forest and thickets near water. It is usually found as territorial pairs. The female lays two purple-lined white eggs in a deep cup nest suspended below a branch or vine. They are incubated by both sexes for 14 days to hatching, the female always brooding at night. The chicks fledge in another 12 days.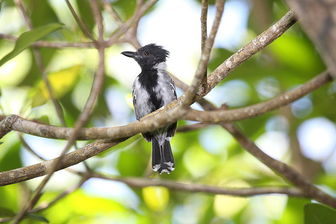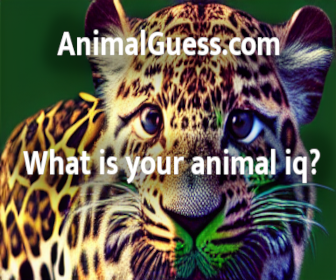 Picture of the Black-crested Antshrike has been licensed under a Creative Commons
Attribution-Share Alike
.
Original source
: Dominic Sherony
Author
: Dominic Sherony
The Black-crested Antshrike is classified as Least Concern. Does not qualify for a more at risk category. Widespread and abundant taxa are included in this category.

Black-crested Antshrike - Sakesphorus canadensis Black-crested Antshrike Sakesphorus canadensis loretoyacuensis Anavilhanas Archilpelago, Amazonas state, Brazil. Male. I was surprised when I saw this bird on a river island in the Rio Negro near Manaus. It seemed out-of-place compared to the habitats where I had seen it previously in Venezuela. (D3) Silvery-cheeked Antshrike - Sakesphorus cristatus Silvery-cheeked Antshrike Sakesphorus cristatus Palmeiras, Bahia state, Brazil. Male. More
The Black-crested Antshrike, Sakesphorus canadensis, is a passerine bird in the antbird family. It is a resident breeder in tropical South America in Trinidad, Colombia, Venezuela, the Guianas, northern Brazil and northeastern Peru. This is a bird of undergrowth in mangrove or other swampy forest and thickets near water. It is usually found as territorial pairs. The female lays two purple-lined white eggs in a deep cup nest suspended below a branch or vine. More
Black-crested Antshrike, special of the area 2009_Colombia Photos by Timothy ©2010 Google Terms - Download Picasa - Launch Picasa - Privacy Policy - Developer - Blog - Google Home More
Stamps showing Black-crested Antshrike Sakesphorus canadensis Black-crested Antshrike Sakesphorus canadensis Bargain of the day! Black-crested Antshrike Links will open countrypage in new window - Surinam 17.09. More
Black-crested Antshrike Sakesphorus canadensis Silvery-cheeked Antshrike Sakesphorus cristatus Glossy Antshrike Sakesphorus luctuosus White-bearded Antshrike Biatas nigropectus Collared Antshrike Thamnophilus bernardi Black-backed Antshrike Thamnophilus melanonotus Band-tailed Antshrike Thamnophilus melanothorax Barred Antshrike Thamnophilus doliatus Chapman's Antshrike Thamnophilus zarumae Bar-crested Antshrike Thamnophilus multistriatus Lined Antshrike Thamnophilus tenuepunctatus Chestnut-backed Antshrike Thamnophilus palliatus Black-hooded Antshrike Thamnophilus bridgesi Black Antshrike Thamnophilus nigriceps Cocha Antshrike Thamnophilus praecox More
Black-crested Antshrike Sakesphorus canadensis = Brazil - Date unknown More
Black-crested Antshrike Sakesphorus canadensis = Described by: Linnaeus (1766) Alternate common name(s): None known by website authors Old scientific name(s): None known by website authors Photographs Brazil - Date unknown More
XC28738 :: Black-crested Antshrike (Sakesphorus canadensis pulchellus) = Recording data Recordist Thomas Donegan Date xx-01-2002 Time 07:00 Country Colombia Location La Tapia, San Bernado, Pelaya, Cesar, 08°42'N 73°47'W Longitude W73.47'0" Latitude N8. More
Black-crested antshrikeBirds in Suriname = - Black-crested antshrike female Batara hupp More