Long-billed Crombec
The Cape Crombec breeds in southern Africa from the Democratic Republic of the Congo, Zambia and Tanzania southwards to South Africa.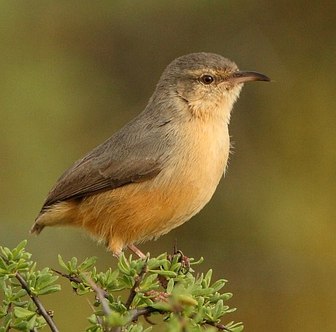 Picture of the Long-billed Crombec has been licensed under a Creative Commons
Attribution-Share Alike
.
Original source
: Alan Manson
Author
: Alan Manson
The Long-billed Crombec is classified as Least Concern. Does not qualify for a more at risk category. Widespread and abundant taxa are included in this category.

The Cape Crombec or Long-billed Crombec, Sylvietta rufescens, is an Old World warbler. However, the taxonomy of the "African warblers", an assemblage of usually species-poor and apparently rather ancient "odd warblers" from Africa is currently in a state of flux. The Cape Crombec breeds in southern Africa from the Democratic Republic of the Congo, Zambia and Tanzania southwards to South Africa. This is a common species in fynbos, open woodland, savannah and dry Acacia scrub. More
The Long-billed Crombec is a Southern African bird that belongs to the Sylviidae bird family group which includes birds such as Leaf-Warblers, Babblers, Warblers. The description for the Long-billed Crombec (Latin name Sylvietta rufescens) can be found in the 7th Edition of the Roberts Birds of Southern Africa. The Sylvietta rufescens can be quickly identified by its unique Roberts identification number of 651 and the detailed description of this bird is on page 785. More
a picture of the Long-billed Crombec on page 864. The Long-billed Crombec belongs to the family of birds classified as Sylviidae. According to the Percy FitzPatrick Institute of African Ornithology the Long-billed Crombec is also known by these other names: Crombek, Cape Crombek. The map of the Kruger you see on this page shows the areas (coloured orange) where this bird has been identified. More
Long-billed Crombec - W Tarboton Antarctic Tern Southern Black Korhaan Female Long-billed Crombec Drakensberg Rockjumper Cape Robin Chat Red-capped Lark Acacia Pied Barbet Cape Weaver Crowned Cormorant Grey-backed Cisticola Wilson's Storm Petrel Yellow Canary Northern Giant Petrel African Pipit Familiar Chat More