Barred Warbler
This is a large and robust species of typical warbler, 15.5-17cm in length, mainly grey above and whitish below. The adult male is darker grey above, and heavily barred below. The female has only light barring. Young birds lack any barring, and have no obvious distinctive features other than the size. The Barred Warbler is a bird of open country with bushes for nesting. The nest is built in low shrub or brambles, and 3-7 eggs are laid. Like most warblers, it is insectivorous, but will also take berries and other soft fruit. The Barred Warbler's song is a pleasant chattering with many clearer notes like a Blackbird. The song can be confused with that of Garden Warbler, but is less melodious.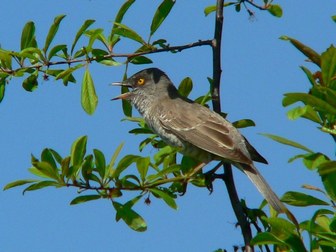 Picture of the Barred Warbler has been licensed under a
GFDL
Original source
: Own work
Author
: photo taken by Artur MikołajewskiPermission(Reusing this file)the author put it under the GFDL and CC-BY-SA
Permission
: GNU Free Documentation License
The Barred Warbler is classified as Least Concern. Does not qualify for a more at risk category. Widespread and abundant taxa are included in this category.

The Barred Warbler (Sylvia nisoria) is a common and widespread typical warbler which breeds throughout eastern Europe and across much of temperate Asia. Lately it has declined in some areas (including Germany), due to habitat loss because of intensified agriculture. This small passerine bird is strongly migratory, and winters in eastern Africa. It is regular on passage as far west as Great Britain & Ireland. This is a large and robust species of typical warbler, 15. More
Barred Warbler or Pale Wren-Warbler, is a species of bird in the Cisticolidae family found in southern Africa. It is sometimes placed in the genus Calamonastes. Stierling's Wren-Warbler, Camaroptera (undosa) stierlingi, is often included in this species. References - * BirdLife International 2004. Camaroptera undosa. 2006 IUCN Red List of Threatened Species. Downloaded on 25 July 2007. More
This barred warbler was far too distant for a photo, however, you can see the main features of this juvenile bird. Found in a ravine not far from scalby lodge pond, the bird has been showing well for two days. A wren was busy catching spiders nearby, and this male peregrine falcon flew past the headland, seems to have a full crop, super bird. More
Images previous Barred warbler imageAdult barred warbler perched on a branch © Zdenek Tunka / www.ardea. More
The Barred Warbler is a bird of open country with bushes for nesting. The nest is built in low shrub or brambles, and 3-7 eggs are laid. Diet / Feeding: Like most warblers, it is insectivorous, but will also take berries and other soft fruit. The Barred Warbler's song is a pleasant chattering with many clearer notes like a Blackbird. More
For the purposes of our bird news services, Barred Warbler is classed as Scarce: broadly speaking, species that are covered in British Birds' annual review of scarce species (and forms of similar rarity). More
The Barred Warbler is quite widespread in the northern half of Kazakhstan; in the some mountain areas of Central Kazakhstan; in the mountains and foothills of south and east of Republic. Also it lives in inhabited localities. The detailed distribution in Kazakhstan please see in the chapter "Races". More
Barred Warbler Sylvia nisoria at Hengistbury Head - 15th September 2008 On a typical early autumnal morning, a last minute decision to put up an extra 40-foot mist net certainly paid dividends. We were trapping the last remnants of the 'acro' warblers in the Hengistbury Head Centre (HHC) reedbed, but a good number of Chiffchaff were also being trapped nearby. So the signs were good that a rarity might turn-up - and it certainly did! At 8. More
For a "big little bird" the Barred Warblers hide even in the breeding habitats (f.ex. Finnish archipelago) unbelievevably well. Usually You can only here the birds! Posted 31 months ago. ( permalink ) view profile Pyconotus says: Great capture! For me, one of the most beautifull warblers. Posted 31 months ago. ( permalink ) Would you like to comment? Sign up for a free account, or sign in (if you're already a member). More
In Scotland, the Barred Warbler is an uncommon passage migrant, usually in autumn. Most years a few of these birds will be found in the northern isles and on the east coast. The photographs in this gallery are stills from a Sony video camera and are in fact the oldest photos in my gallery - hence the poor quality but I have not seen another Barred Warbler since 2002. More
"I have attached a photo of a Barred Warbler, one of the birds your contact in Iceland mentions, hunting through some Common Figwort in my garden at the weekend. I know it is a poor image but it is all i managed i'm afraid. However, you can still clearly see what it is? i wasn't sure what it was when i first spotted it, although i did realise it was not the usual Willow or Garden Warbler. More
Therefore, this Barred Warbler was video'ed through the telescope again, resulting in mega-magnified video shots. Barred Warbler - Sperwergrasmus Sylvia nisoria juvenile; videograbs (200-320x). Vlieland Fr, The Netherlands, 12 October 2001. More