Lesser Whitethroat
Unlike many typical warblers, the sexes are almost identical. This is a small species with a grey back, whitish underparts, a grey head with a darker bandit mask through the eyes and a white throat. It is slightly smaller than the Whitethroat, and lacks the chestnut wings and uniform head-face color of that species. The Lesser Whitethroat's song is a fast and rattling sequence of tet or che calls, quite different from the Whitethroat's scolding song.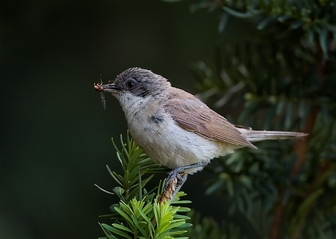 Picture of the Lesser Whitethroat has been licensed under a
GFDL
Original source
: Own work
Author
: Martin Mecnarowski (http://www.photomecan.eu/)This illustration was made by Martin MecnarowskiIf you are interested in high resolution pictures, please contact author in order to negotiate condition of use.More pictures can be found here and in the gallery http://www.photomecan.eu/
Permission
: GNU Free Documentation License
The Lesser Whitethroat is classified as Least Concern. Does not qualify for a more at risk category. Widespread and abundant taxa are included in this category.

The Lesser Whitethroat, Sylvia curruca, is a common and widespread typical warbler which breeds in temperate Europe, except the southwest, and in western and central Asia. This small passerine bird is strongly migratory, wintering in Africa just south of the Sahara, Arabia and India. at Keoladeo National Park, Bharatpur, Rajasthan, India. Unlike many typical warblers, the sexes are almost identical. More
The Lesser Whitethroat complex has been split up into the present species, Hume's Whitethroat, and the Small Whitethroat from which the Margelanic Whitethroat may also be specifically distinct. In this superspecies, the Lesser Whitethroat seems to form the basal European lineage. More
The Lesser Whitethroat's song is a fast and rattling sequence of tet or che calls, quite different from the Whitethroat's scolding song. Diet / Feeding: Like most "warblers", it is insectivorous, but will also take berries and other soft fruit. Nesting / Breeding: This is a bird of fairly open country and cultivation, with large bushes for nesting and some trees. The nest is built in low shrub or brambles, and 3-7 eggs are laid. More
The RSPBMale lesser whitethroat in songHawthorn scrub, CambridgeshireLesser whitethroat, autumn passage migrant * A * B * C * D * E * F * G * H * I * J * K More
lesser whitethroatlesser whitethroat - Old World warbler similar to the greater whitethroat but smallerSylvia curruca, whitethroatwarbler - a small active songbird How to thank TFD for its existence? Tell a friend about us, add a link to this page, add the site to iGoogle, or visit webmaster's page for free fun content. More
the Lesser Whitethroat group, little can be resolved as it seems a fairly basal taxon.(Helbig 2001, Jønsson & Fjeldså 2006) This is a bird of open country and cultivation, with bushes for nesting. The nest is built in low shrub or brambles, and 3-7 eggs are laid. Like most "warblers", it is insectivorous, but will also take berries and other soft fruit. More
The Desert Lesser Whitethroat on Teeside Brian J Small The accompanying images were taken using a Sony PC-3 through a Leica APO Televid with 20X eyepiece. Bright light produces a great deal of contrast. - I wonder how many birders failed to travel to South Gare, Teeside, in order to see the Desert Lesser Whitethroat Sylvia minula, present from November 9th-26th 2000, because of its status as a sub-species of Lesser Whitethroat. More
Sylvia curruca | lesser whitethroat | whitethroat © Princeton University – orn. lesser whitethroat Klappergrasmücke {f} orn. lesser whitethroat Zaungrasmücke {f} Teilweise Übereinstimmung orn. More
The Lesser Whitethroat is a summer visitor, arriving in April/May and leaving towards the end of July to spend the winter in north-east Africa. Conservation - The Lesser Whitethroat population may be in a slight decline, which could be a result of the loss of scrub in the UK and problems in its wintering grounds. My Garden - I've not seen Lesser Whitethroats in the neighbourhood. More
Aspects of the topic lesser whitethroat are discussed in the following places at Britannica. Assorted References * migration patterns (in migration (animal): Birds) ...Sylvia atricapilla) and garden warblers (S. borin), under an artificial autumn sky, headed "southwest," their normal direction; lesser whitethroats (S. curruca) headed "southeast," their normal direction of migration in that season. More
Lesser Whitethroat Sylvia currica (following a Sedge Warber on Monday, and a Common Whitethroat yesterday). The bird was singing from by a dense thicket of Bullace, hawthorn, and bramble. Amazingly the bird called several times and then vanished: I led a Walk right around the very same spot a few hours later and it was long gone... More
Lesser Whitethroat was amongst 33 species identified on the Shelley Eco Park Birdsong and Wildlife Walk in April.Group walk is strictly for the birds! by Huddersfield Daily Examiner (Huddersfield, England)Scrub creates valuablehabitats for clifftopbirds such asstonechat, whitethroat and dunnock, and though the cliffs are too low for nesting seabirds, common tern, cormorant, redshank and oystercatcher can be seen. More
In conclusion - Lesser Whitethroats are a nightmare, Svennson says 'don't do it', but this was definitely an unusual bird. It's got to be from somewhere far east, but precisely what subspecies is hard to say. Fashion seems to be to stick UK records like this into the amorphous halimodendri group. If it is a halimodendri, it is presumably from the far end of the range where it intergrades with minula, as it is very different from those normal-shaped dark brownish blythii types we've seen on Shetland. More
The Lesser Whitethroat breeds throughout in Kazakhstan including the desert areas. Widespread on migration. The detailed distribution in Kazakhstan please see in the chapter "Races". More
Feeding studies of the Lesser Whitethroat in Strathclyde - By Tom Byars Introduction The Lesser Whitethroat Sylvia curruca is still a comparatively scarce breeding species in Scotland. In Strathclyde, the breeding population has remained relatively stable at 9-12 pairs since 1986, with no indication of further expansion into new areas. This has been attributed to the lack of suitable breeding habitat and climatic conditions (Byars et al 1991). More
For the purposes of our bird news services, Lesser Whitethroat is classed as Common: common species, including species that are certain or probable escapees from captivity when occurring in the British Isles. (Note that rarity levels are currently applied nationally and may not reflect local variations in abundance. More
The Lesser Whitethroat Sylvia curruca is a relatively common breeding bird in England with a breeding population of around 64,000 pairs (BTO). Breeding habitat is defined by mature thorn scrub usually found in chalk downland, disused railway lines, mineral workings, coastal heath, regenerating woodland etc. High breeding density is located south from a line running from the Humber to the Severn estuary (Gibbons et al. 1993). The further north and west one travels in the UK, Lesser Whitethroat breeding density diminishes. More
Desert Lesser Whitethroat Sylvia minula is sometimes included in this species. Margelanic Lesser Whitethroat Sylvia margelanica is sometimes included in this species. Hume's Lesser Whitethroat Sylvia althaea is sometimes included in this species. Distribution: W Palearctic; winters n Africa to India (Map) Taxon info Pictures On Internet Who X? Dist. References: James F. Clements. More
Fantastic fact: Lesser Whitethroats spend the winter in Africa, Arabia and India. More
Lesser Whitethroat Sylvia curruca Lesser Whitethroat Desert Lesser Whitethroat! Locations for recordings with GPS coordinates Results 1 - 21 of 21 from 1 species for sp:3088.15 (foreground species only). More
The Lesser Whitethroat group is very complex and without trapping it and undertaking DNA sampling we are very unlikely to racially ID this bird with any certainty, beyond saying that it might not/is not curruca. Photos by Brian Stone 1, 2, 3, 4, 5. More
Lesser whitethroat takes the long road = Premium Article ! = Your account has been frozen. For your available options click the below button. Options Premium Article ! = To read this article in full you must have registered and have a Premium Content Subscription with the n/a site. More