Cape Grassbird
The Cape Grassbird breeds in southern Africa in South Africa, Lesotho, Mozambique and Swaziland with an isolated population in eastern Zimbabwe.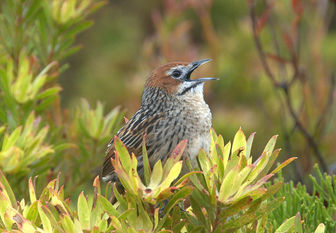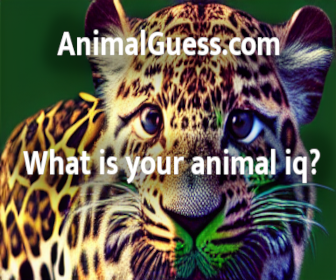 Picture of the Cape Grassbird has been licensed under a Creative Commons
Attribution
.
Original source
: Flickr: Cape Grassbird
Author
: Brian RalphsPermission(Reusing this file)This image, which was originally posted to Flickr.com, was uploaded to Commons using Flickr upload bot on 07:09, 14 April 2011 (UTC) by DreamOfShadows (talk). On that date it was licensed under the license below.This file is licensed under the Creative Commons Attribution 2.0 Generic license.You are free:to share – to copy, distribute and transmit the work
The Cape Grassbird is classified as Least Concern. Does not qualify for a more at risk category. Widespread and abundant taxa are included in this category.

The Cape Grassbird or Cape Grass Warbler, Sphenoeacus afer, is an African Warbler, formerly placed in the Sylviidae family. It is the only member of the genus Sphenoeacus. The taxonomy of the "African warblers", an assemblage of usually species-poor and apparently rather ancient "odd warblers" from Africa is currently in a state of flux. The Cape Grassbird breeds in southern Africa in South Africa, Lesotho, Mozambique and Swaziland with an isolated population in eastern Zimbabwe. More
vues alexanderlees — 19 juillet 2007 — Cape Grassbird at de Hoop National Park alexanderlees — 19 juillet 2007 — Cape Grassbird at de Hoop National ParkCatégorie : Animaux Tags :Cape Grassbird at de Hoop National Park endemic south africa birds birding Chargement… J'aime Enregistrer dans Partager E-mail Skyrock Facebook Twitter MySpace Live Spaces Blogger orkut Buzz reddit Digg Chargement… Connectez-vous ou inscrivez-vous dès maintenant ! Publier un commentaire Répondre Chargement… Résultats pour : More
The Cape Grassbird (Latin name Sphenoeacus afer) is described in Roberts Birds of Southern Africa, 7th Edition. This bird has a unique Roberts number of 661 and you will find a full description of this bird on page 781 also a picture of the Cape Grassbird on page 848. The Cape Grassbird belongs to the family of birds classified as Sylviidae. According to the Percy FitzPatrick Institute of African Ornithology the Cape Grassbird is also known by these other names: African Grassbird. More
Cape Grassbird Canon 50D 400mm focal length 1/800 sec exposure F8 ISO 400 January 2010 Cosmo City, Gauteng Adult Cape Grassbird Canon 40D 400mm focal length March 2008 Eastern Highlands, Zimbabwe Adult Experiences with species I first saw this bird at Sterkfontein Dam. This picture was a co-operative individual in Zimbabwe. More
For the purposes of our bird news services, Cape Grassbird is classed as Ungraded: species which are unlikely to appear as wild birds in Britain or Ireland hide section Most recent photos of Cape Grassbird (2) Rooiels Bay, Nr Cape Town, South Africa Rooiels Bay, Nr Cape Town, South Africa13/10/2008 Rooiels Bay, Nr Cape Town, South Africa 13/10/2008 Boulders Beach, Western Cape, South Africa Boulders Beach, Western Cape, South Africa19/07/2008 Boulders Beach, Western Cape, South Africa More
africa, ardeola, ardeola ibis, bubulcus, bubulcus ibis, cape grassbird, cattle egret, egret, grassbird, haltimo, ibis License: Rights Managed Price Class 2 36705 - Cape Grassbird - Sphenoeacus afer Cape Grassbird - Sphenoeacus afer. africa, cape grassbird, grassbird, haltimo, kirstenbosch, south africa, sphenoeacus, sphenoeacus afer License: Rights Managed Price Class 2 36048 - Cape Grassbird - sphenoeacus afer Cape Grassbird - sphenoeacus afer. More
Results for: cape grassbirdTranslations 1 - 30 of 58 English English Finnish Finnish cape grassbird ruskopääkerttu, Sphenoeacus afer little grassbird suokaislakerttunen, Megalurus gramineus papuan grassbird ylänkökaislakerttunen, Megalurus macrurus fly river grassbird uudenguineankaislakerttunen, Megalurus albolimbatus fan-tailed grassbird afrikanviuhkakerttunen, Schoenicola brevirostris striated grassbird isokaislakerttunen, Megalurus palustris tawny grassbird More
Rock-jumper, and the Cape Grassbird-like trilling of the Victorin's Warbler – always easier heard than seen. Malachite Sunbird occur as well. Higher slopes may yield Cape Rock-Thrush, whilst overhead, the resident pair of Jackal Buzzard often display, and are sometimes mobbed by White-necked Raven. 5. Cape Eagle-Owl occurs in the rocky gorge above Disa Kloof. They can often be heard calling early on a winter's evening. More
maybe we were disturbing insects? Karoo Prinia and Cape Grassbird were very active in the fynbos, maybe already breeding. Yellow Bishop was still trying to get his breeding dress on for the coming spring, but had some way to go as he was still brownish! Karoo Prinia African Black Oystercatcher pair Stoney Point: Many Penguins were moulting and others breeding in there little "sponsored" fibreglass burrows. All the 4 Cormorants were there. More