Pallas's Leaf Warbler
This is a bird of coniferous mountain woodlands. The nest is built in a tree. Like most Old World warblers, this small passerine is insectivorous.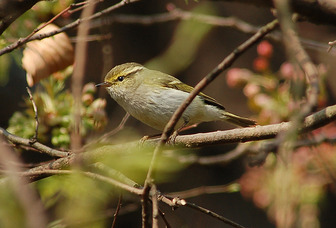 Picture of the Pallas's Leaf Warbler has been licensed under a
GFDL
Original source
: 孟宪伟
Author
: 孟宪伟
Permission
: GNU Free Documentation License
The Pallas's Leaf Warbler is classified as Least Concern. Does not qualify for a more at risk category. Widespread and abundant taxa are included in this category.

The first description of Pallas's Leaf Warbler was by Pallas in 1811 as Motacilla Proregulus. The Committe for Check-List of Japanese Birds (2000) treated it as a polytypic species and described Pallas's Leaf Warbler that have been recorded in Japanes was P. p. proregulus. Many authors, however, treate non-nominate subspecies as full species and the Pallas's Leaf Warbler P. proregulus as a monotypic species (Dickinson 2003, del Hoyo et al. 2006, Rheindt 2006). More
Pallas's Leaf Warbler in Spain Photo of Pallas's Leaf Warbler Population and distribution of Pallas's Leaf Warbler in Spain News and information on Pallas's Leaf Warbler in Spain English-Spanish-Catalan translation of Pallas's Leaf Warbler * Pallas's Leaf Warbler : mosquitero de Pallas : mosquiter reiet More