Common Chiffchaff
It is a migratory passerine which winters in southern and western Europe, southern Asia and north Africa. Greenish-brown above and off-white below, it is named onomatopoeically for its simple chiff-chaff song. It has a number of subspecies, some of which are now treated as full species. The female builds a domed nest on or near the ground, and assumes most of the responsibility for brooding and feeding the chicks, whilst the male has little involvement in nesting, but defends his territory against rivals, and attacks potential predators.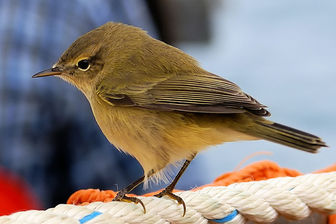 Picture of the Common Chiffchaff has been licensed under a Creative Commons
Attribution-Share Alike
.
Original source
: Own work
Author
: Hans HillewaertPermission(Reusing this file)I, the copyright holder of this work, hereby publish it under the following license: This file is licensed under the Creative Commons Attribution-Share Alike 3.0 Unported license.You are free:to share – to copy, distribute and transmit the work
The Common Chiffchaff is classified as Least Concern. Does not qualify for a more at risk category. Widespread and abundant taxa are included in this category.

Canaria is smaller than Common Chiffchaff, and has shorter, rounder wings. It is olive-brown above and has a buff breast and flanks; it has a rich deep chip-cheep-cheep-chip-chip-cheep song, and a call similar to the nominate race. The eastern P. c. More
it is sympatric with Common Chiffchaff in a small area in the Western Caucasus, but interbreeding occurs rarely, if ever. The Mountain Chiffchaff differs from tristis in vocalisations, external morphology, and mtDNA sequences. Its two subspecies appear to be distinct vocally, and also show some difference in mtDNA sequences; they are maintained at subspecies rank pending further research. More
281-296) and found to be a Common Chiffchaff, as were two other von Homeyer's specimens: one at the same museum; the other at the Museum of Natural History Tring. Svensson described a new 'Ticehurst type' specimen collected in Portugal in 1920, now at Tring, and renamed the species as Phylloscopus ibericus. In a second detailed study of Iberian Chiffchaff (published in 2003), Salomon, Voisin and Bried (Ibis, 145, 87–97) go further than just describing Iberian Chiffchaff as a species. More
This Common Chiffchaff (Phylloscopus collybita), was one of the many birds that landed on board my ship for rest during their migration to Africa from Europe. This insectivorous bird also got a few tasty dragonflies for snack, when on board. The bird is similar in appearance to a willow warbler, its the song of the bird that helped me to identify it as Chiffchaff, I didn't have any device to record its cry though. More
Felosa Comum / Common Chiffchaff Common Chiffchaff - De Vilt, Beugen Felosa Comum / Common Chiffchaff Felosa Comum / Common Chiffchaff Felosa Comum / Common Chiffchaff (Search Oriental Bird Images) Locations for recordings with GPS coordinates Results 1 - 6 of 6 from 1 species for sp:6599.00 (foreground species only). More
The Common Chiffchaff or simply Chiffchaff, Phylloscopus collybita, is a common and widespread leaf warbler, named for its distinctive onomatopoeic song, which breeds in open woodlands throughout northern and temperate Europe and Asia. It is a migratory passerine which winters in southern and western Europe, southern Asia and north Africa. Greenish-brown above and off-white below, it is named for its simple chiff-chaff song. It has a number of subspecies, some of which are now treated as full species. More
The Common Chiffchaff is indeed a common winter visitor to the Delhi area and can found quite easily in a range of different habitats, especially in low bushes and close to water. As well as searching for insects by gleaning foliage and sometimes hovering in trees and bushes, they will also feed on the ground, particularly in damp areas and can also be found foraging on floating vegetation like water hyacinth. They are active, obliging birds, often flicking the tail and wings. More
For example, "The Common Chiffchaff, named for the onomatopoeia of its distinctive song, breeds in open woodlands..." The sentence as it stands seems to me to consist of two parts: (1) The Common Chiffchaff... is a common and widespread leaf warbler" and (2) Named for the onomatopoeia of its distinctive song, which breeds... More
Common ChiffchaffCommon Chiffchaff (Phylloscopus collybita) Czech Republic - 2009Photo no. More