Pale-rumped Warbler
This is a bird of coniferous mountain woodlands. The nest is built in a tree. Like most Old World warblers, this small passerine is insectivorous.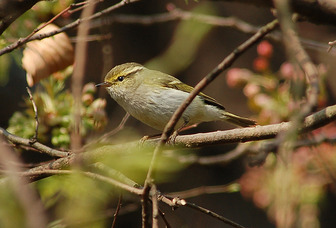 Picture of the Pale-rumped Warbler has been licensed under a
GFDL
Original source
: 孟宪伟
Author
: 孟宪伟
Permission
: GNU Free Documentation License
The Pale-rumped Warbler is classified as Least Concern. Does not qualify for a more at risk category. Widespread and abundant taxa are included in this category.

Both Pallas's Leaf Warbler and Pale-rumped Warbler have been named Lemon-rumped Leaf Warbler but by different authorities; Lemon-rumped Leaf Warbler is therefore a name that is best avoided due to the possible confusion. Habitat - Behaviour - External Links - Image:Icon_camera_link.png Search for photos of Pale-rumped Warbler in the BirdForum Gallery Retrieved from "http://www.birdforum. More
simlaensis, a subspecies of Pale-rumped Warbler which some list also call Lemon-rumped Warbler. I have taken the liberty of correcting the tags. Sorry again. Posted 38 months ago. ( permalink ) view profile The World Through My Eye Pro User says: wonderful! Posted 38 months ago. ( permalink ) view profile Keith@Worldbirds. More