Common Tailorbird
These 13-cm-long warblers are brightly coloured, with bright green upperparts and whitish underparts. They have short rounded wings, a long tail, strong legs and a sharp bill with curved tip to the upper mandible. They are wren-like with a long upright tail that is often moved around. The crown is rufous and the upperparts are predominantly olive green. The underside is creamy white. The sexes are identical, except that the male has long central tail feathers in the breeding season. Young birds are duller.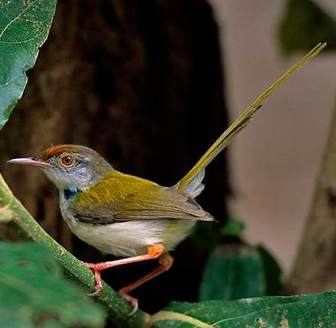 Picture of the Common Tailorbird has been licensed under a Creative Commons
Attribution
.
Original source
: Male tailorbird Orthotomus sutorius. Photograph by Vijay Cavale. vijay AT indiabirds.com
The Common Tailorbird is classified as Least Concern. Does not qualify for a more at risk category. Widespread and abundant taxa are included in this category.

On 19th March 2007 a male Common Tailorbird (Orthotomus sutorius) was perching on one of my plants in my garden and calling loudly with his high pitch chiup-chiup-chiup-chiup (left). As he was making this incessant loud calls, he had his head cocked up and his wings partially opened and flapping vigorously. At the same time his long and narrow tail was continuously raised and lowered. Normally shy and moving about all the time, he stayed put on his perch for some minutes. More
pair of Common Tailorbird (Orthotomus sutorius) flying in and out of the nest to feed the chicks. The birds flew to a perch some distance from the nest, looked around, then when all was clear, flew directly to the nest (left). The birds did not pose for him with the food - they moved around fast and KC had to act just as fast, missing many opportunities and spending a total of about three hours in the field. More
The Common Tailorbird ( Orthotomus sutorius) is a songbird found across tropical Asia. Popular for its nest made of leaves "sewn" together and immortalized by Rudyard Kipling in his Jungle Book, it is a common resident in urban gardens. Although shy birds that are usually hidden within vegetation, their loud calls are familiar and give away their presence. More
common tailorbird swiftly on the veldt, or common amid tailorbird the heat of battle. And to know him they must realize some of whom have joined the majority, but some of our joys. Let us. Posted on 8:48 PM Fri, June 5th 2009 7. More
Attached is a photograph of an irate Common Tailorbird who was accusing me of professional incompetence when this image was shot this morning. The expression says it all! By way of background, this bird is a neighbourhood resident and a sort of leader of the local bird pack. His incessant chattering is enough to drive everyone crazy and really no bird wants to get into a discussion with him. As the local leader he often helps me out on my rooftop studio with the shy birds. More
The Common Tailorbird builds its nest in a shrub and lays 3–5 eggs. Play soundTailorBird.ogg Calls of guzuratus from southern India Like most warblers, the Common Tailorbird is insectivorous. The song is a loud cheeup-cheeup-cheeup with variations across the populations. The disyllabic calls are repeated continuously. The scientific name sutorius means "cobbler" rather than "tailor" while Orthotomus means "straight-cutting". More
Tags : Common Tailorbird Sings Common Coot * About Video Details Views : 570 Comments : 0 Runtime : 43. More
The common tailorbird is brightly-colored and has a long erect tail. The males and females look the same, except in the breeding season when the male grows long central tail feathers. Both sexes have brown heads, green upper bodies, and bright yellow or white underbodies. They have short wings and sturdy legs, and are approximately five inches long. More
The Common Tailorbird, Orthotomus sutorius, is an Old World warbler. This tailorbird is a resident breeder in tropical south Asia from Pakistan and India to south China, and Indonesia. Main features: Small (12cm); upperparts olive, underparts creamy buff; bill long; thighs rufous; legs long; tail long. Male: Centre of crown rufous; sides of head and underparts white; black patches on neck. Female: Rufous restricted to the forehead. More
The Common Tailorbird, Orthotomus sutorius, is an Old World warbler. This tailorbird is a resident breeder in tropical south Asia from Pakistan and India to south China, and Indonesia. More
They are indeed the most common Tailorbird in Singapore. Quite bold with humans, they are rapidly colonising urban areas, seen even in high-rise balconies. Like others in their family, Common Tailorbirds are strong singers, making melodious calls which seem much louder than seems possible for such a tiny bird. Common Tailorbirds are active and restless; usually heard rather than seen. They constantly shift their perch in the understorey thickets, and make short, quick darting flights. More
The nests of the Common Tailorbird are found at Simpoh Air scrubs around the Park. Nest building for the Common Tailorbird is a job undertaken by the female. The male can be seen escorting the female on her material collection rounds. Using a single leaf or a cluster of leaves, the 'cover' of the nest is formed by the female who meticulously pierces an equal number of holes on each leaf edge with its finely pointed bill as a needle. More
Common Tailorbird builds its nest in a shrub and lays 3-5 eggs. These 13 cm long warblers are brightly coloured, with bright green upperparts and whitish underparts. The crown of the head is chestnut. It has short rounded wings, a short tail, strong legs and a long decurved bill. The tail is typically held upright, like a wren. The sexes are identical, except that the male has long central tail feathers in the breeding season, but young birds are duller. More