Bernieria madagascariensis
The Long-billed Bernieria , formerly known as Long-billed Greenbul, is a songbird species endemic to Madagascar. It was initially considered a greenbul, and later with the Old World warbler. Recent research indicates it is part of an endemic Malagasy radiation currently known as the Malagasy warblers, which have not received a scientific name yet.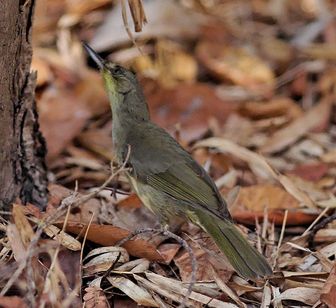 Picture of the Bernieria madagascariensis has been licensed under a Creative Commons
Attribution-Share Alike
.
Original source
: danielguip
Author
: danielguip
The Bernieria madagascariensis is classified as Least Concern. Does not qualify for a more at risk category. Widespread and abundant taxa are included in this category.

Bernieria madagascariensis madagascariensis sottospecie Bernieria madagascariensis inceleber sottospecie Xanthomixis Xanthomixis zosterops Xanthomixis zosterops zosterops sottospecie Xanthomixis zosterops fulvescens sottospecie Xanthomixis zosterops andapae sottospecie Xanthomixis zosterops ankafanae More
bernieria, Bernieria madagascariensis madagascariensis (J.F. Gmelin); M. mccrackeni ex the White-throated oxylabes, Oxylabes madagascariensis (J.F. Gmelin); and M. batesi ex the Long-billed bernieria, B. m. madagascariensis (J.F. Gmelin). These represent the first species of Myrsidea to be described from this group of hosts. We also sequenced a portion of the mitochondrial COI gene for these and other species of Myrsidea. Notes Journal URL http://www.phthiraptera.org/Publications/46382. More
Old scientific name(s): Bernieria madagascariensis, Xanthomixis madagascariensis Photographs near Andasibe, Madagascar - Dec, 2006 More
* Bernieria madagascariensis madagascariensis (Gmelin) 1789 Syst.Nat. 1 pt2 p.940 Cryptosylvicola (m.) Goodman, Langrand & Whitney,BM 1996 Ibis 138 p.153,154 Concept * Cryptosylvicola randrianasoloi Goodman, Langrand & Whitney,BM 1996 Ibis 138 p.154 Hartertula (f.) Stresemann 1925 Orn.Monatsb. 33 p.186 * Hartertula flavoviridis (Hartert) 1924 BBOC 45 p.35 Systematics Thamnornis (m.) Milne-Edwards & Grandidier,A 1882 Hist.Nat.Madagascar.Ois. 1 p. More