Blunt-winged Warbler
It is found in Afghanistan, China, Hong Kong, India, Laos, Burma, Nepal, Pakistan, Thailand, and Vietnam.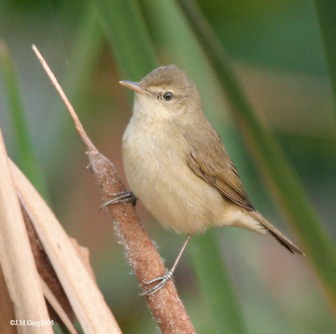 Picture of the Blunt-winged Warbler has been licensed under a
GFDL
Original source
: J.M.Garg
Author
: J.M.Garg
Permission
: GNU Free Documentation License
The Blunt-winged Warbler is classified as Least Concern. Does not qualify for a more at risk category. Widespread and abundant taxa are included in this category.

The Blunt-winged Warbler (Acrocephalus concinens) is a species of marsh-warbler (family Acrocephalidae). It was formerly included in the "Old World warbler" assemblage. It is found in Afghanistan, China, Hong Kong, India, Laos, Burma, Nepal, Pakistan, Thailand, and Vietnam. References - * BirdLife International 2004. Acrocephalus concinens. 2006 IUCN Red List of Threatened Species. Downloaded on 10 July 2007. This Sylvioidea-related article is a stub. More
Blunt-winged Warbler (Acrocephalus concinens) is a local resident (Assam) and summer visitor (western Himalayas) in India. More
Blunt-winged Warbler Forward | Print | Individual message | Show original | Report this message | Find messages by this author 2nd May 2010 at Dibrugarh, Assam. - You received this message because you are subscribed to the Google Groups "delhibirdpix" group. To post to this group, send email to delhibirdpix@googlegroups.com. To unsubscribe from this group, send email to delhibirdpix+unsubscribe@googlegroups.com. For more options, visit this group at http://groups.google.com/group/delhibirdpix?hl=en. DSC_1574_394. More
Blunt-winged Warbler (Acrocephalus concinens) in AP W IMG 4067.jpgBlunt-winged Warbler... 210,469 bytes Blunt-winged Warbler (Acrocephalus concinens) in AP W IMG 4069.jpgBlunt-winged Warbler... 187,576 bytes Blunt-winged Warbler (Acrocephalus concinens) in AP W IMG 4071.jpgBlunt-winged Warbler... 157,456 bytes Blunt-winged Warbler (Acrocephalus concinens) in AP W IMG 4075.jpgBlunt-winged Warbler... 182,620 bytes Blunt-winged Warbler (Acrocephalus concinens) in AP W IMG 4076.jpgBlunt-winged Warbler... More