Black-faced Warbler
It is found in Bhutan, China, India, Myanmar, Nepal, and Vietnam. Its natural habitats are subtropical or tropical moist lowland forests and subtropical or tropical moist montane forests.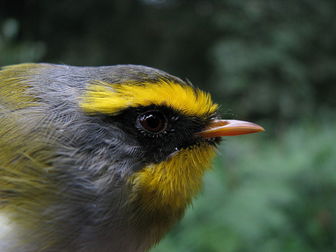 Picture of the Black-faced Warbler has been licensed under a Creative Commons
Attribution-Share Alike
.
Original source
: Umeshsrinivasan
Author
: Umeshsrinivasan
The Black-faced Warbler is classified as Least Concern. Does not qualify for a more at risk category. Widespread and abundant taxa are included in this category.

The Black-faced Warbler (Abroscopus schisticeps) is a species of bush warbler (family Cettiidae). It was formerly included in the "Old World warbler" assemblage. It is found in Bhutan, China, India, Myanmar, Nepal, and Vietnam. Its natural habitats are subtropical or tropical moist lowland forests and subtropical or tropical moist montane forests. References - 1. ^ BirdLife International (2008). Abroscopus schisticeps. In: IUCN 2008. More
Black-faced Warbler Forward | Print | Individual message | Show original | Report this message | Find messages by this author Eaglenest. One more of the fast movers at High ISO. Kind regards, Clement www.clementfrancis.com BCWarbler.JPG 172K Download Forward You must Sign in before you can post messages.To post a message you must first join this group. More
Black-faced Warbler Abroscopus schisticeps At least 10 of these attractive small birds were in a fast-moving flock at Neora Valley on 25/11 with a few also at Lava the following day. 205. Striated Laughingthrush Garrulax striatus Flocks of up to 30 seen at Lulagaon, Neora Valley and Lava. 206. Blue-winged Laughingthrush Garrulax squamatus One seen briefly by one observer in a small flock of Black-faced Laughingthushes on the Sandakphu trek on 28/11. 207. More
Black-faced Warbler (Abroscopus schisticeps) is a local resident in Himalayas and hills of north-east India. More