Black-winged Starling
The Black-winged Starling is a species of starling in the family Sturnidae. The species is also known as the Black-winged Myna or the White-breasted Starling. It is endemic to Indonesia. There are three recognised subspecies, the nominate race, which occurs across much of the island of Java, tricolor, which is restricted to south east Java, and tertius, which is found on Bali and possibly Lombok. The validity of the records on Lombok has been called into question, there are only a few records and they may represent escapees from the cagebird trade or natural vagrants. The species has often been assigned to the starling genus Sturnus, but is now placed in Acridotheres because it is behaviourally and vocally closer to the birds in that genus.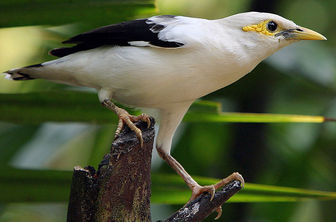 Picture of the Black-winged Starling has been licensed under a
GFDL
Original source
: Doug Jansonjj
Author
: Doug Jansonjj
Permission
: GNU Free Documentation License
The Black-winged Starling is classified as Endangered (EN), considered to be facing a very high risk of extinction in the wild.

The Black-winged Starling (Acridotheres melanopterus) is a species of starling in the family Sturnidae. The species is also known as the Black-winged Myna or the White-breasted Starling. It is endemic to Indonesia. There are three recognised subspecies, the nominate race, which occurs across much of the island of Java, tricolor, which is restricted to south east Java, and tertius, which is found on Bali and possibly Lombok. More
Black-winged Starling photo - Robert photos at pbase.com: Robert | all galleries >> Birds - Singapore > Black-winged Starling. ... Black-winged Starling. 28-SEP-2003, Robert. Black-winged Starling. Singapore. ... http://www.pbase.com/image/19378600 Black-winged Starling photo - Robert photos at pbase.com: Robert | all galleries >> Birds - Singapore > Black-winged Starling. previous | next. Black-winged Starling. 20-JUL-2003, Robert. Black-winged Starling. Singapore. ... http://www.rdb.or.id/detailbird. More
Black-winged Starling (Sturnus melanopterus) Camera Model: Canon EOS 350D DIGITAL | Focal: 300 mm | Exposure: 1/40 sec | Aperture: f 4. More
Black-winged Starling (Sturnus melanopterus) at Jurong Town, South West. "Not the greatest photo, and it's a captive bird, but was unrepresented in the Field Guide, and something is better than nothing. At the Jurong Bird Park, Singapore. Avibase says they're endangered. Didn't notice at the time if there was a breeding pair in the enclosure, but I hope so." by cramsay23 (www.flickr.com/photos/cramsay23/). Date: Taken on June 1, 2007. Source: Flickr (www.flickr.com/photos/cramsay23/554052586/). More
Images Close up of a black-winged starling Close up of a black-winged starling Species related by - * Family group * Habitat * Conservation status * * View image slideshow * Link to this image * Email to a friend * * MyARKive More
Images previous Black-winged starling imageBlack-winged starling perched on branch © Tom and Pam Gardner / www.flpa-images.co. More
The Black-winged Starling (Sturnus melanopterus) is endemic to Indonesia. Vinous-breasted Starling (Sturnus burmannicus) Asian Pied Starling - Photo, Video and/or Article contributions are welcome! Please click here for info The Avianweb strives to maintain accurate and up-to-date information; however, mistakes do happen. If you would like to correct or update any of the information, please send us an e-mail. More
race of the Black-winged Starling (Sturnus melanopterus tertius) which has its stronghold on Nusa Penida but is indeed equally as endangered as the Bali Starling. There are virtually no captive breeding Black Winged Starling and a search of the world's zoos has come up with only one bird in a German zoo that was surely too old to breed. I have now reliable information that many endangered parrots along with they Bali Starling have now been released on Nusa Penida. More
Black-winged Starling - Starlings, Rhabdornis - Sturnidae Links will open countrypage in new window - China (Taiwan) 09.10. More
The black-winged starling (Acridotheres melanopterus) of western Indonesia is also Endangered and suffering from the cage-bird trade. Vulnerable species include the Rarotonga starling (Aplonis cinerascens), atoll starling (Aplonis feadensis), mountain starling (Aplonis santovestris), Abbott's starling (Cinnyricinclus femoralis), and the white-faced starling (Sturnus albofrontatus). The Rarotonga starling from Rarotonga in the Cook Islands is rare and probably numbered fewer than 100 individuals in 1987. More
* Black-winged Starling, Sturnus melanopterus (treated by some in Acridotheres) * Rosy Starling, Sturnus roseus * Red-billed Starling, Sturnus sericeus * White-cheeked Starling, Sturnus cineraceus * Common Starling, Sturnus vulgaris * Spotless Starling, Sturnus unicolor * Wattled Starling, Creatophora cinerea * Réunion Starling, Fregilupus varius Conservation status: Extinct (1850s) More