Chestnut-tailed Starling
The Chestnut-tailed Starling or Grey-headed Myna is a member of the starling family of perching birds. It is a resident or partially migratory species found in wooded habitats in India and Southeast Asia. The population in the Western Ghats has a white head and this taxon blythii) is sometimes considered a full species.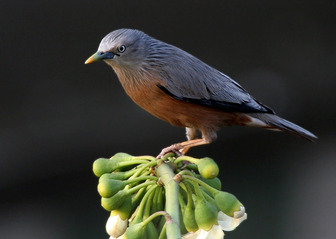 Picture of the Chestnut-tailed Starling has been licensed under a
GFDL
Original source
: Own work
Author
: J.M.Garg
Permission
: GNU Free Documentation License
The Chestnut-tailed Starling is classified as Least Concern. Does not qualify for a more at risk category. Widespread and abundant taxa are included in this category.

The Chestnut-tailed Starling's nest is typically found in open woodland and cultivation. The Chestnut-tailed Starling builds a nest in hole. The normal clutch is 3-5 eggs. Like most starlings, the Chestnut-tailed Starling is fairly omnivorous, eating fruit, nectar and insects. They fly in tight flocks and often rapidly change directions with great synchrony. Chestnut-tailed Starling.oggPlay video Subspecies blythii from Cotigao National Park, Goa, India Notes - 1. More
Chestnut-tailed Starling The taxon blythii is sometimes (e.g. Rasmussen & Anderton, 2005) considered a valid species, the Malabar White-headed Starling or White-headed Myna (Sturnia blythii), instead of a subspecies of Sturnia malabarica. As S. m. malabarica only visits the range of blythii during the non-breeding period (winter), the two are not known to interbreed. However a molecular study found the genetic divergence between S. malabarica blythii not signifincatly greater (between 0.2% and 0.8%) than between the sisters S. More
Chestnut-tailed Starling builds a nest in hole and the normal clutch consists of an average of 3-5 eggs. The adults of these 20cm long birds have dark grey upperparts, rufous underparts and a chestnut tail. The head is a paler grey, with a white throat. Both males and females are similar, however juveniles have grey upperparts and whitish underparts, with just chestnut tips to the tail feathers. More
Chestnut-tailed Starlings are found in open country throughout India and South-east Asia. They are generally found feeding in pairs or small groups, but in Goa we observed a couple of flocks of over 50 birds feeding on fruiting trees alongside Jungle Mynas and Rosy Starlings. Goa, India - December 2004 They are one of the most agile starlings and are quite at home clambering around on thin branches like an overgrown tit. More
Chestnut-tailed Starling (Sturnia malabarica) on a Dead tree. Lively birds! A.k.a Grey-headed Myna. More
Chestnut-tailed Starling in Kowloon Park 31 Jan 2010 Creation Date: 05/02/2010 Last Update: 05/02/2010 By FC | F Chan > Chestnut-tailed Starling in Kowloon Park 31 Jan 2010 Chestnut-tailed Starling 灰頭椋鳥 transpixel transpixel IMG 7525w transpixel transpixel IMG 7525w More
Chestnut-tailed Starling (Sturnus malabaricus) Filmed at Cotigao NP, Goa, India November 1997 using Canon EX1 Hi8 and Sigma 400mm lens. Chestnut-tailed Starling (Sturnus malabaricus) Filmed at Cotigao NP, Goa, India November 1997 using Canon EX1 Hi8 and Sigma 400mm lens.all » Chestnut-tailed Starling (Sturnus malabaricus) Filmed at Cotigao NP, Goa, India November 1997 using Canon EX1 Hi8 and Sigma 400mm lens.« Download video - iPod/PSPDownload is starting. Save file to your computer. More
Chestnut-tailed Starling (Sturnus malabaricus) is a widespread resident north east India and Bhutan. Also found in the hills of south-west India. More
* Chestnut-tailed Starling (Sturnus malabaricus) and Ashy Woodswallow (Artamus fuscus)0:22 * Ajouter à la file d'attente Ajoutée à la file d'attente Chestnut-tailed Starling (Sturnus malabaricus) ... More