White-necked Myna
The White-necked Myna is a large, long-tailed species of starling in the Sturnidae family. Due to its superficial resemblance to a magpie, it has been referred to as the Celebes Magpie or Sulawesi Magpie in the past. It is endemic to forests on Sulawesi and adjacent smaller islands in Indonesia. There are two subspecies; the nominate from the southern part of Sulawesi has a yellow-tipped bill, and torquata from the northern part of the island has an all-black bill.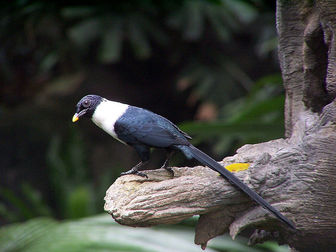 Picture of the White-necked Myna has been licensed under a Creative Commons
Attribution-Share Alike
.
Original source
: Flickr
Author
: Charles LamPermission(Reusing this file)This image, which was originally posted to Flickr.com, was uploaded to Commons using Flickr upload bot on 16:56, 17 December 2007 (UTC) by Ltshears (talk). On that date it was licensed under the license below. This file is licensed under the Creative Commons Attribution-Share Alike 2.0 Generic license.You are free:to share – to copy, distribute and transmit the work
The White-necked Myna is classified as Least Concern. Does not qualify for a more at risk category. Widespread and abundant taxa are included in this category.

The White-necked Myna (Streptocitta albicollis) is a large, long-tailed species of starling in the Sturnidae family. Due to its superficial resemblance to a magpie, it has been referred to as the Celebes Magpie or Sulawesi Magpie in the past. It is endemic to forests on Sulawesi and adjacent smaller islands in Indonesia. There are two subspecies; the nominate from the southern part of Sulawesi has a yellow-tipped bill, and torquata from the northern part of the island has an all-black bill. More
The White-necked Myna (Streptocitta albicollis) is a large, long-tailed starling that is endemic to the forests on Sulawesi and adjacent smaller islands in Indonesia. As it resembles a magpie, it is at times referred to as Celebes Magpie or Sulawesi Magpie. More
White-necked Myna Streptocitta albicollis torquata White-necked Myna Photographer : More
* White-necked Myna, Streptocitta albicollis * Bare-eyed Myna, Streptocitta albertinae * Fiery-browed Myna, Enodes erythrophris * Finch-billed Myna, Scissirostrum dubium * Golden-crested Myna, Ampeliceps coronatus * Common Hill Myna, Gracula religiosa * Southern Hill Myna, Gracula indica * Enggano Myna, Gracula enganensis * Nias Myna, Gracula robusta * Sri Lanka Myna, More
White-necked Myna Streptocitta albicollis = Sulawesi, Indonesia - 2005 More
"Long Tail" - White-necked Myna (Streptocitta albicollis) at Hong Kong. Source: Flickr (www.flickr.com/photos/kclama/45301678/). Date: Taken on May 20, 2005. Author: CharlesLam (www.flickr.com/photos/kclama/). The White-necked Myna (Streptocitta albicollis) is a species of starling in the Sturnidae family. It is endemic to Indonesia. Its natural habitat is subtropical or tropical moist lowland forests. http://en.wikipedia.org/wiki/White-necked_Myna The text in this page is based on the copyrighted Wikipedia article shown in above URL. It is used under the GNU Free Documentation License. More
White-necked Myna Streptocitta albicollis IUCN Red List history Year Category 2009 Least Concern 2008 Least Concern 2004 Least Concern 2000 Lower Risk/Least Concern 1994 Lower Risk/Least Concern 1988 Lower Risk/Least Concern Range Estimate More
The White-necked Myna ( Streptocitta albicollis) is a large long-tailed species of Starling in the Sturnidae family The Bare-eyed Myna ( Streptocitta albertinae) is a large long-tailed species of Starling in the Sturnidae family UserPolbot. ->The Fiery-browed Myna ( Enodes erythrophris) is a species of Starling in the Sturnidae UserPolbot. More