Purple Glossy-Starling
The adults of these stocky 22–23 cm long birds have a metallic purple head and body, and glossy green wings. They have a short tail and a yellow eye. The sexes are similar, but juveniles are much duller, with grey underparts and a brown iris.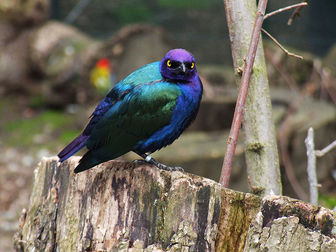 Picture of the Purple Glossy-Starling has been licensed under a Creative Commons
Attribution
.
Original source
: originally posted to Flickr as Kasteelpark-Born 100
Author
: Gérard van DrunenPermission(Reusing this file)This image, which was originally posted to Flickr.com, was uploaded to Commons using Flickr upload bot on 09:37, 6 May 2009 (UTC) by Snowmanradio (talk). On that date it was licensed under the license below.This file is licensed under the Creative Commons Attribution 2.0 Generic license.You are free:to share – to copy, distribute and transmit the work
The Purple Glossy-Starling is classified as Least Concern. Does not qualify for a more at risk category. Widespread and abundant taxa are included in this category.

* Purple Glossy-starling, Lamprotornis purpureus * Rueppell's Glossy-starling, Lamprotornis purpuroptera * Long-tailed Glossy-starling, Lamprotornis caudatus * Meves' Glossy-starling, Lamprotornis mevesii * Burchell's Glossy-starling, Lamprotornis australis * Sharp-tailed Glossy-starling, Lamprotornis acuticaudus * Superb Starling, Lamprotornis superbus * Hildebrandt's Starling, Lamprotornis hildebrandti * Shelley's Starling, Lamprotornis shelleyi * Chestnut-bellied Starling, Lamprotornis pulcher More
Purple Glossy-starling (Lamprotornis purpureus) - Wiki Purple Glossy-starling (Lamprotornis purpureus) - Wiki; Image ONLY Email : E-Card | Poster | Web Master Delete Edit Info Admin Description Purple Glossy-starling (Lamprotornis purpureus) - Wiki Purple Glossy-starling From Wikipedia, the free encyclopedia Purple Glossy-starling (Lamprotornis purpureus). Date 9 September 2006. Photo ?? 2006 by Tomasz Sienicki (http://commons.wikimedia.org/wiki/User:Tsca, mail: tomasz.sienicki at gmail. More
Purple Glossy-starling Lamprotornis purpureus = * Home Expand Log in Menu item Register Menu item Log out Menu item Change login details Menu item Why register? Expand UK & Ireland Menu item Birding sites More
Purple Glossy-Starling, Lamprotornis purpureus Sturnidae (STARLINGS) Purple Glossy-Starling, Lamprotornis purpureus This photo was taken in: Gambia This photo was taken with: Hand-held Canon EOS650 and Sigma 170-500mm zoom lens with Fuji Sensia ASA200 slide film. More