Iris Glossy-Starling
The Iris Glossy-starling, Coccycolius iris, is also known as the Emerald Starling. It is a small starling with a metallic green crown, upper body, wings and tail. The ear-coverts and underparts are metallic purple. Both sexes are similar. Its placement in a monotypic genus Coccycolius is disputed; some unite it with many other glossy-starlings in Lamprotornis.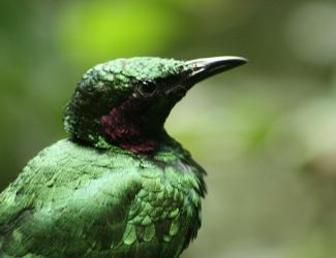 Picture of the Iris Glossy-Starling has been licensed under a Creative Commons
Attribution
.
Original source
: Stavenn
Author
: Stavenn
The Iris Glossy-Starling is classified as Data Deficient (DD), inadequate information to make a direct, or indirect, assessment of its risk of extinction.

The Iris Glossy-starling, Coccycolius iris, is also known as the Emerald Starling. It is a small starling with a metallic green crown, upper body, wings and tail. The ear-coverts and underparts are metallic purple. Both sexes are similar. Its placement in a monotypic genus Coccycolius is disputed; some unite it with many other glossy-starlings in Lamprotornis. One of the smallest species among starlings, the Iris Glossy-starling is distributed in West Africa. More
The Iris Glossy-starling feeds on figs, Haronga berries and other fruit, seeds, ants and small insects such as ants. The cup-shaped nest is built in a tree cavity. It is classified as "data deficient" by the IUCN. This means that it is unlikely to be seriously threatened with extinction, but that its status in the wild is in need of assessment. More