Micronesian starling
Micronesian Starlings consume fruit, seeds, the occasional insect and the eggs of seabirds. They are bold around humans and will follow humans in seabird colonies to take the eggs of seabirds flushed by them.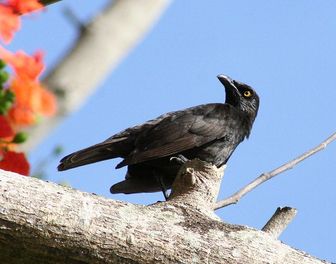 Picture of the Micronesian starling has been licensed under a Creative Commons
Attribution-Share Alike
.
Original source
: Peter
Author
: Peter
The Micronesian starling is classified as Least Concern. Does not qualify for a more at risk category. Widespread and abundant taxa are included in this category.

The Micronesian Starling (Aplonis opaca) is a species of starling in the Sturnidae family. It is found in Micronesia, Northern Mariana Islands, and Palau. Its natural habitats are subtropical or tropical dry forests and subtropical or tropical moist lowland forests. Micronesian Starlings consume fruit, seeds, the occasional insect and the eggs of seabirds. They are bold around humans and will follow humans in seabird colonies to take the eggs of seabirds flushed by them. More
Range: The Micronesian Starling is widely distributed in Micronesia ranging through Palau; Yap; Guam; the Commonwealth of the Northern Mariana Islands (Saipan, Tinian and Rota); Chuuk; Pohnpei; and Kosrae. Current Status: Historically on Guam the Sali was found throughout the island. It is presently restricted to Cocos Island in southern Guam and to the military housing area of Andersen Air Force Base in Northern Guam. The numbers are greatly reduced. More
Micronesian Starling (Aplonis opaca) = French: Stourne de Micronésie German: Karolinenstar Spanish: Estornino de Micronesia Taxonomy: Lamproth. opaca Kittlitz, 1833, Kosrae, Caroline Islands. Genus name sometimes given as Aplornis (see page 659). Seven subspecies recognized. Subspecies and Distribution: * aenea Takatsukasa & Yamashina, 1931 - N Northern Mariana Is (Asuncion, Agrihan, Pagan, Alamagan). More
Yellow Wagtail Motacilla flava, Micronesian Starling Aplonis opaca, Micronesian Honeyeater Myzomela rubratra, Caroline Islands White-eye Zosterops semperi, Dusky White-eye Zosterops finschii, and Chestnut Mannikin (Black-headed Munia) Lonchura malacca. Yap = Stone money in Yap Yap is famous for stone money and manta rays. The stone money, traditional meeting houses, and ancient stone footpaths are beautiful and interesting. Of all of the readily accessible islands in Micronesia, Yap retains the most traditional culture. More
The Micronesian Starling (Aplonis opaca) is found in Micronesia (northwest of the Philippines), Northern Mariana Islands (between Hawaii and the Philippines), and Palau (an island nation in the Pacific Ocean, east of the Philippines). They feed on fruits, seeds, the occasional insect and the eggs of seabirds. These bold birds will follow humans in seabird colonies to take the eggs of seabirds flushed by them. More
vanikorensis)*, Micronesian Starling (Aplonis opaca)*, Micronesian Honeyeater (Myzomela rubratra)*, Gray White-eye (Zosterops cinereus), and Blue-faced Parrotfinch (Enythrura trichroa)*. Except for the dove which is hunted and hence shy, all the resident birds were easy to find anywhere on the island. Near Lelu, the original 1400 AD capital of Kosrae, I saw White-tailed Tropicbird (Phaethon lepturus). On my second visit, I took a guided-walk into the interior where I flushed a Micronesian Pigeon (Ducula oceanica) *. More
Micronesian Starling (Aplonis opaca) LC Threats and conservation Loss of forest is a serious problem in some parts of this EBA. For example, on Pohnpei, the lowland forests have been very disturbed and those in the uplands have been seriously affected too, mainly due to the growth of 'sakau' or 'kava' Piper methysticum as a major cash crop (B. Raynor in litt. 1995). More
Micronesian Starling Aplonis opaca IUCN Red List history Year Category 2009 Least Concern 2008 Least Concern 2004 Least Concern 2000 Lower Risk/Least Concern 1994 Lower Risk/Least Concern 1988 Lower Risk/Least Concern Range Estimate More
Stamps showing Micronesian Starling Aplonis opaca Micronesian Starling Aplonis opaca Micronesian Starling Aplonis opaca 205.002 Micronesian Starling IOC v2.4: 8152 Links will open countrypage in new window - Palau 16.03.1990 Birds - Palau 05.04. More
Micronesian Starling Aplonis opaca Endemic Commonly seen in all secondary habitats throughout Micronesia. Tree Sparrow Passer montanus Intro Seen in low numbers around towns & other human habitation on Yap, Saipan, Rota & Tinian. Blue-faced Parrotfinch Erythrura trichroa 3 seen on Tol South. Scaly-breasted Munia Lonchura punctulata Intro Up to 25 seen in secondary scrub, Yap. More
The Micronesian Starling (Aplonis opaca) is the only resident land bird, occurring on Mokil but not on Pingelap. All the terrestrial reptile species occur in forest, the most common habitat, but show perch site selectivity and other habitat preferences. Buden, Donald W. Reptiles, Birds, and Mammals of Ant Atoll, Eastern Caroline Islands. Micronesica 29(1): 21-26, 1996. More
Micronesian Starling (Aplonis opaca) is the only native, resident, land bird, and it is common and widespread, averaging 5.7 birds per hectare atoll-wide among the 31 islands. A kingfisher is reported from Kapingamaringi for the first time, and a recently collected specimen of shining cuckoo (Chrysococcyx lucidus) is the first record for Micronesia and first report of the nominate (New Zealand) subspecies north of the Bismark Archipelago. Buden, Donald W. More
Micronesian Starling (Aplonis opaca) Blue-faced Parrotfinch (Erythrura trichroa) Chestnut Munia (Lonchura atricapilla) More
* Micronesian Starling, Aplonis opaca * Pohnpei Starling, Aplonis pelzelni * Polynesian Starling, Aplonis tabuensis * Samoan Starling, Aplonis atrifusca * Rarotonga Starling, Aplonis cinerascens * Yellow-faced Myna, Mino dumontii * Golden Myna, Mino anais * Long-tailed Myna, Mino kreffti * Sulawesi Myna, Basilornis celebensis More