Willie Wagtail
The Willie Wagtail is a passerine bird native to Australia, New Guinea, the Solomon Islands, the Bismarck Archipelago, and eastern Indonesia. It is a common and familiar bird throughout much of its range, living in most habitats apart from thick forest. Measuring 19.0–21.5 cm in length, the Willie Wagtail is contrastingly coloured with almost entirely black upperparts and white underparts; the male and female have similar plumage. Three subspecies are recognised; leucophrys from central and southern Australia, the smaller picata from northern Australia, and the larger melaleuca from New Guinea and islands in its vicinity. It is unrelated to the true wagtails of the genus Motacilla; it is a member of the fantail genus Rhipidura and is a part of a 'core corvine' group that includes true crows and ravens, drongos and birds of paradise. Within this group, fantails are placed in the family Dicruridae, although some authorities consider them distinct enough to warrant their own small family, Rhipiduridae.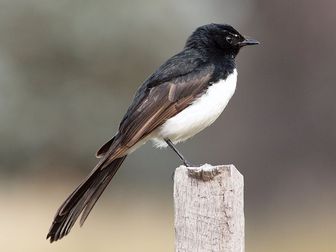 Picture of the Willie Wagtail has been licensed under a Creative Commons
Attribution
.
Original source
: Picasa Web Albums
Author
: Duncan McCaskill
The Willie Wagtail is classified as Least Concern. Does not qualify for a more at risk category. Widespread and abundant taxa are included in this category.

the Willie Wagtail is contrastingly coloured with almost entirely black upperparts and white underparts; the male and female have similar plumage. Three subspecies are recognised; leucophrys from central and southern Australia, the smaller picata from northern Australia, and the larger melaleuca from New Guinea and islands in its vicinity. More
The willie wagtail is usually seen singly, although mates often are nearby. A conspicuous, active, and bold bird that often draws attention to itself by harassing or attacking larger animals that are considered as predators or enter territory during breeding. An aggressive individual, it conspicuously expands its white eyebrows. In Australia, this species is mainly sedentary or locally nomadic, while in New Guinea it may leave some areas in the dry season, returning to breed during the rains. More
The Willie Wagtail is often found in the company of cattle and sheep. They either run behind the moving animal snatching insects as they are disturbed, or sit on the animal's back, darting off to capture a flying insect and then returning to its mobile perch. More
The willie wagtail is the most well-known of Australian fantails, it is also the largest. It is black and white, and has white eyebrows which the male and female can 'raise' when defending their territory. Willie wagtails use their characteristic 'fantail' as a sweeping fan over grass to disturb insects, which it then catches and consumes. More
vues nmtb — 24 juillet 2007 — Willie Wagtail in the garden nmtb — 24 juillet 2007 — Willie Wagtail in the gardenCatégorie : People Tags :Willie Wagtail Chargement… J'aime Enregistrer dans Partager E-mail Skyrock Facebook Twitter MySpace Live Spaces Blogger orkut Buzz reddit Digg Chargement… Connectez-vous ou inscrivez-vous dès maintenant ! Joindre une vidéoJoindre une vidéo L'ajout de commentaires a été désactivé pour cette vidéo. More
The Willie Wagtail (Rhipidura leucophrys) of Australia is an unrelated bird similar in colouration and shape to the Japanese Wagtail. It belongs to the fantail flycatchers. Contents - * 1 Characteristics * 2 Systematics * 3 Species in taxonomic order * 4 References * 4. More
Willie wagtails are one bird that has adapted well to living with humans and they can be found throughout most of Australia. Photo courtesy of Bushie Table of Contents - * The Fearless Willie Wagtail * Willie Wagtail Being Helpful * Raising A Family * Gaurding The Nest. More
the Willie wagtail is found in most habitats excepting wet forests. Feeds on foliage and insects. Notes: Black and white bird with black head, back and wings. White brow and belly. Often seen on the ground wagging its fan tail. Chases off other birds. Breeds Winter-Spring-Summer. For more information on Willie Wagtail see references. Images have been uploaded in low resolution for storage efficiency, ( they do not reflect the true image quality). More
Willie Wagtail Products Suction Cup Grabbers Swing Staging Towels & Sponges Training Materials ... Books and DVDs Washers, T-Bars & Sleeves Water Fed Poles & Systems Home > Squeegees > Willie Wagtail Products Combo Tool - Wagtail - Flipper - "Orbital" Aluminum - Complete - 12" - CloseOut WAGAFLIP12 In-Stock Item $26.50 $20. More
Willie Wagtail - In his tree A chirpy little birdie He felt so gala, he sang to a koala And waved until seven thirty Then, he went to sleep More
Willie Wagtails are part of the fantail group of birds. More
Studies on an Australian bird called a willie wagtail, which is related only by its tail-wagging behaviour and its name, have shown a correlation between tailwagging, light intensity and food capture, with birds wagging more when feeding in dull light in which movements are less obvious. More
Adult Willie Wagtails are generally between 15 and 20 cm in length and starkly coloured being almost all black with white underparts, and white flashing above the eye and under the cheeks. Their most notable feature (and what gives them their name) is their long black tail, which they fan out and "wag" from side to side when hunting. Wagtails are almost always on the move and are rarely still for more than a few moments during daylight hours. More
The Willie Wagtail is different from other similar sized black and white birds because it has a black throat and white eyebrows and whisker marks. It is called a "wagtail" because it constantly wags its tail in a sideways motion. Young birds look like its parents, but have paler, slightly rusty edges on the feathers of their wings. More
The Willie Wagtail (Rhipidura leucophrys) is one of the best known and best loved birds of Australia. Around 20 cm long or a fraction bigger, the Willie Wagtail is a frequent sight in almost all habitats except thick forest. Its range includes the entire mainland of Australia and northern Tasmania, and extends to New Guinea, the Solomon Islands, the Bismarck Archipelago, and eastern Indonesia. More
locate willie wagtail links or information on willie wagtails Rhipidura leucophrysfor the suburban community of Sunnybank, Brisbane, Queensland, Australia. More
This Willie Wagtail has just seen off a juvenile Pallid Cuckoo which was sitting just above the nest with its 3 nestlings, all very young (see previous picture). The adult Willie Wagtail had flown in and fed the cuckoo, then chased it off, pecking at its back as it flew away. The willie then returned to the nest. More
Willie Wagtail Taking Off For Flight Willie Wagtail Willie Wagtail, Dunlop, 10.11. More
Willie Wagtail - In his tree A chirpy little birdie He felt so gala, he sang to a koala And waved until seven thirty! Then, he went to sleep (Shhh... More
Another interesting feature of the Willie Wagtail is the black and white plumage on the throat and breast that forms a breast-band, is arched like a rainbow-a reversal of other smaller fantail species (below left). The image (above centre) shows Chinese opera looking slit, white eye brows or supercilium. They apparently vary in size with level of excitement. I am yet to check this observation out the next visit. The primaries have brown highlights that shimmer when sunrays hit at the right angle. More