Pied Fantail
It is found in Brunei, Cambodia, Indonesia, Laos, Malaysia, Myanmar, the Philippines, Singapore, Thailand, and Vietnam.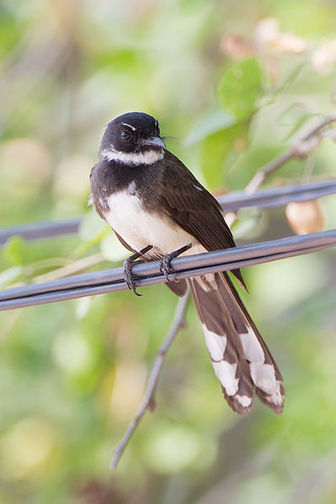 Picture of the Pied Fantail has been licensed under a Creative Commons
Attribution-Share Alike
.
Original source
: Own work
Author
: JJ Harrison (http://www.noodlesnacks.com/)Camera location
The Pied Fantail is classified as Least Concern. Does not qualify for a more at risk category. Widespread and abundant taxa are included in this category.

The Pied Fantail (Rhipidura javanica) is a species of bird in the Rhipiduridae family. It is found in Brunei, Cambodia, Indonesia, Laos, Malaysia, Myanmar, the Philippines, Singapore, Thailand, and Vietnam. For the Rhipidura fuliginosa subspecies, known in New Zealand as the Pied Fantail, see Rhipidura fuliginosa. Its natural habitat is subtropical or tropical moist lowland forests. More
Pied Fantails are named for their habit of fanning out their beautiful long tails. It has been suggested that by revealing the white tips of the tail, insects are startled into movement. Pied Fantails eat mainly insects. Unlike their relatives the flycatchers, Fantails forage close to the ground in the dark understorey, perching on a root or low branch, teetering at the ready to launch into flight. They catch their prey on the wing and rarely miss. More
"This nesting by the Pied Fantail (Rhipidura javanica) was around the visitor centre, and over the waters of the lake. I think the birds must be quite used to people, and confident in its nest position, which was some way over the water out of reach but highly visible to anyone walking past. "The Fantail's nest is cup shape, very neatly made, from fine grasses woven and held together by spiders' web. More
The Pied Fantail (Rhipidura javanica) is a small bird that is never still. The bird is constantly moving around, at the same time turning from side to side in a jerky way, lowering its wings, cocking up its head and constantly fanning its tail - opening and closing. It moves alone or in pairs, disturbing insects among vegetation with its movements and the fanning of the tail, to sally forth once an insect is disturbed from its rest. More
A pied fantail's tail has two dark central feathers, and opens to reveal white feathers. Fantails have white eyebrows, white and black chest bands and a buff underside. The black phase fantail (a genetic variation of the same species) is sooty black all over. This fantail has just been bathing in a tiny pool. Fantails are important in Māori tradition. More
Pied Fantail Kid The Baby Pied Fantail is Grown UP !!! Pied Fantail Baby Talking to His Mom Pied Fantail Mom Pied Fantail (Rhipidura javanica) Locations for recordings with GPS coordinates page 1 Pied Fantail song Rhipidura javanica (0:03) Sander Pieterse & Ben Wielstra XC19473 02-05-2005, Indonesia Pied Fantail song Rhipidura javanica (0:20) David Farrow XC19803 More
Pied Fantail (Philippine Wild Birds) By Romy Ocon View in HD Download 720p HD Version Visit Romy Ocon's ExposureRoom Videos Page Posted by Romy Ocon at 1:58 AM 1 comments: R.O. said... More
Tamarind tree, the Pied Fantails Rhipidura javanica longicaudata have built another nest in the Cinnamon tree and have eggs, Asian Glossy Starlings Aplonis panayensis strigata are also feeding their young in the Tamarind tree. In the past week I have noted 3 episodes of angry and frantic calls involving all the chaps above and also the Magpie Robins. Each time it is because a male or female Asian Koel Eudynamys scolopaceus has turned up in the Tamarind or Cinnamon tree. More
philippines pied fantail rhipidura javanica nigritorquis wild birds wildlife Equipment: Asset Information closeUpdated: 14 months agoShortGenre: NatureDuration: 00:02:04Definition: This Video is a High Definition (HD) VideoDimensions: 1280 x 720Size: 124.08MB Share closeSend Link by Email Digg It!Add To StumbleUponAdd to Del.icio. More
I was fortunate to witness the dancing Pied Fantail in the mating ritual. Note the male was dancing with a leg in the air. Found at Air Itam Dalam, Butterworth, mainland Penang. www.forestexplorers.com Birds are a joy to watch. Life on earth will be empty without the melodies of birds. They entertain us, they trill us, they provide an added color to our world and most of all, they are the indicator of our environment. More
A pied fantail flew in my apartment today and I caught it. I stay at Mount Sophia, right behind Dhoby Ghaut. I've seen some of them in the woods around here many times. I didn't know what this bird was, so as I was looking for info on the Internet and I came across your page. More
Pied Fantail by Khong Tuck Khoon Photographer: Khong Tuck Khoon Location: All Over Malaysia Date Taken: 07/Jul/2009 Upload On: 08/Jul/2009 Rating: ****** Pied Fantail is found in the following countries: 1. Cambodia 2. Indonesia 3. Laos 4. Malaysia 5. More