Grey Fantail
This Fantail is mid to dark grey or grey-brown above, yellowish/orange below, with a white throat, white markings over the eye, and either white-edged or entirely white outer tail feathers. It grows to 16 centimetres in length, of which half is the tail, which, as the name implies, is often displayed fanned out. This reveals that the outer tail feathers that are light and the centre ones are dark. Some subspecies are found in a darker plumage, notably the Black fantail morph seen in up to 25% of South Island birds and less than 1% of North Island birds .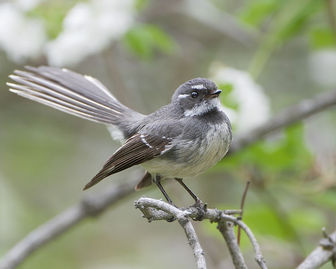 Picture of the Grey Fantail has been licensed under a
GFDL
Original source
: Own work
Author
: JJ Harrison (http://www.noodlesnacks.com/)Permission(Reusing this file)I, the copyright holder of this work, hereby publish it under the following licenses:Permission is granted to copy, distribute and/or modify this document under the terms of the GNU Free Documentation License, Version 1.2 only as published by the Free Software Foundation; with no Invariant Sections, no Front-Cover Texts, and no Back-Cover Texts. A copy of the license is included in the section entitled GNU Free Documentation License.1.2 onlywww.gnu.org/licenses/old-licenses/fdl-1.2.htmlGFDL 1.2GNU Free Documentation License 1.2truetrue This file is licensed under the Creative Commons Attribution-Share Alike 3.0 Unported license.You are free:to share – to copy, distribute and transmit the work
Permission
: GNU Free Documentation License
The Grey Fantail is classified as Least Concern. Does not qualify for a more at risk category. Widespread and abundant taxa are included in this category.

Grey Fantail perched on a branch. Grey Fantail perched on a branch. Photo: K Vang and W Dabrowka © Bird Explorers Grey Fantail. Grey Fantail. Photo: K Vang and W Dabrowka © Bird Explorers Grey Fantail. Grey Fantail. More
A Grey Fantail in Australia feeding its brood insect prey. The majority of the diet of fantails composes of small insects and invertebrates. The larger Willie Wagtail is capable of tackling small skinks, but this is exceptional. Insect prey is generally small and easily handled, but larger items sometimes need to be subdued by banging it on branches, an action that also removes the wings of larger prey items like moths. More
The Grey Fantail (Rhipidura albiscapa) is a small insectivorous bird. A common fantail found in Australia (except western desert areas), New Guinea, the Solomon Islands, Vanuatu and New Caledonia. The species was once considered to be the same as the New Zealand Fantail, however due to differences in its calls most authorities now treat it as a separate species. More
Grey FantailThe Grey Fantail (Rhipidura fuliginosa) is a small insectivorous bird. It is a very common sight in all parts of Australia except western desert areas, and is also found in New Zealand (where it is also known by its Maori name, Piwakawaka or Tiwakawaka), New Guinea, the Solomon Islands, Vanuatu and New Caledonia. More
Grey Fantail Size: 16cm Habitat: Found through out Australia, This bird inhabits forests, scrublands and remnant bush. Feeds on insects usually caught in flight. Notes: Head, wings and tail Grey with white brow, white tips on tail. Chest and belly light grey/white. Constantly fans tail. Breeds Spring-Summer. For more information on Grey Fantail see references. Images have been uploaded in low resolution for storage efficiency, ( they do not reflect the true image quality). Original images are high quality photographic files. More
The Grey Fantail is found throughout most of Australia, New Zealand, the Solomon Islands, New Caledonia, southern New Guinea, Vanuatu and formerly on Lord Howe Island. Seasonal movement of this species is poorly understood. Throughout its range Grey Fantails can be partly resident (i.e. many don't migrate) and partly migratory and in some locations the local population can be wholly or partly replaced or augmented by migrants from other regions. More
with the Grey Fantail that this species has been divided into ten separate races, five of which occur in Australia with the remainder in New Zealand and the South Pacific islands. * Its conservation status in Australia is largely classified as 'Secure', apart from the Northern Territory where it is 'Critically Endangered'. * Its average weight is only 9 grams. More
A Grey Fantail on a grey morning at Campbell Park. To take full advantage of Flickr, you should use a JavaScript-enabled browser and install the latest version of the Macromedia Flash Player. Comments view profile Callocephalon Photography Pro User says: Excellent shot. Posted 5 months ago. More
Grey Fantail (subspecies "alisteri") on a branch of a cypress pine tree in Jack's Creek State Forest, 25 km south of Narrabri, New South Wales; note the buff front and the typical white margin of the outer tail feather (click on image for larger version) View of the underparts of a Grey Fantail; note the prominent whiskers (click on image for larger version) Frontal view of a Grey Fantail; note the buff breast and underparts More
Grey Fantail ~ Come on ... flap like this baby !! by Robert Elliott 100% of proceeds received from Redbubble in respect to sales of this item, will be donated to Bush Heritage Australia Grey Fantail with it's little chick. Photo taken in the Myall Lakes National Park, NSW, Australia. More
Grey Fantail - Definition = Grey Fantail Image:Grey-Fantail-210.jpg Grey Fantail. More
The Grey Fantail is similar to the Willie Wagtail (Rhipidura leucophrys) but it More