Light-vented Bulbul
The particular characteristic is the large white patch covering the nape and the sides of its black head. It also sings very brightly and variably with a 'cha-ko-lee...cha-ko-lee...' sound.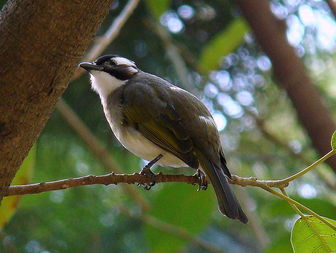 Picture of the Light-vented Bulbul has been licensed under a Creative Commons
Attribution-Share Alike
.
Original source
: Transferred from en.wikipedia; transferred to Commons by User:Innotata using CommonsHelper.
Author
: Earthshine.. at en.wikipedia
The Light-vented Bulbul is classified as Least Concern. Does not qualify for a more at risk category. Widespread and abundant taxa are included in this category.

Light-vented Bulbul, Pycnonotus sinensis Conservation status Least Concern (IUCN 3.1) Scientific classification Kingdom: Animalia Phylum: Chordata Class: Aves Order: Passeriformes Family: Pycnonotidae Genus: Pycnonotus Species: P. More
Light-vented Bulbuls are also released for Buddhist ceremonies. Though declining, Taiwan Bulbuls are still fairly common, and can even be found in front of beach resorts External links - * Birdlife factsheet Stub icon This Pycnonotidae-related article is a stub. You can help Wikipedia by expanding it.v • d • e Stub icon This Taiwan-related article is a stub. More
Light-vented Bulbul Pycnonotus sinensis = Described by: Gmelin, J. F. More
Light-vented Bulbul Pycnonotus sinensis hainanus Light-vented Bulbul Photographer : More
The Light-vented Bulbul (also Chinese Bulbul), Pycnonotus sinensis, is a bird and a member of the bulbul family. Characteristic The particular characteristic is the large white patch covering the nape and the sides of its black head. It also sings very brightly and variably with a 'cha-ko-lee...cha-ko-lee...' sound. Populations They are common in East Asia. The population can be found in Hong Kong, mainland China, Taiwan, Korea and Japan. More
Light-vented Bulbul Pycnonotus sinensis = Bird News Extra subscribers should log in to view an enhanced species page. show section BirdGuides rarity status: ungraded For the purposes of our bird news services, Chinese Bulbul is classed as ungraded: species which are unlikely to appear as wild birds in Britain or Ireland (Note that rarity levels are currently applied nationally and may not reflect local variations in abundance. More
Light-vented Bulbul Pycnonotus sinensis = * Home Expand Log in Menu item Register Menu item Log out Menu item Change login details Menu item Why register? Expand UK & Ireland Menu item Birding sites More
The Light-vented Bulbul is a medium-sized (19 cm), noisy, conspicuous bulbul with a black crown, a white nape stripe bordered posteriorly by a black band, a thick black moustachial stripe and a buffy auricular patch. The back and wings are grayish with olive yellow highlights and edgings to the flight feathers; the throat and undersides are white, separated by a grayish-brown, diffuse breast band. The bill and legs are black. More
Photo © Nial MooresA Light-vented Bulbul Pycnonotus sinensis was found and photographed today on Eocheong Island, during a survey on behalf of the Korean National Institute of Environmental Research. Eocheong Island is 70 km west of Gunsan City, and (very approximately) 300 km southeast of Shandong peninsula, the nearest part of the Light-vented coast, and the bird was found after a prolonged period (several days) of strong northwesterly winds. More
Stamps showing Light-vented Bulbul Pycnonotus sinensis Light-vented Bulbul Pycnonotus sinensis Light-vented Bulbul Pycnonotus sinensis Light-vented Bulbul Pycnonotus sinensis 180.004 Light-vented Bulbul IOC v2.4: 6848 Links will open countrypage in new window - China (Taiwan) 02.01.2001 The auspicious postage stamps 4v set - China (Taiwan) 30.01.2008 Birds - Hong Kong 29.10. More
light-vented Bulbul Pycnonotus sinensis ... ]When the birds come home to roostmember of the bulbul family and is found. mainly in tropical Asia; from Pakistan and In ... The red-vented bulbul, the coppersmith barbet, the spotted ... ]cytl Rupee at 40 to a Dollar? Dissertation Submitted for ...Bulbul Gupta, FMS Delhi. Rupee at 40 to a Dollar' 1. EXECUTIVE SUMMARY ... Bulbul Gupta, FMS Delhi. Rupee at 40 to a Dollar' 4. The main threat to ... More
Light-vented Bulbul, Pycnonotus sinensis Cape Bulbul, Pycnonotus capensis White-spectacled Bulbul, Pycnonotus xanthopygos White-eared Bulbul, Pycnonotus leucotis Red-vented Bulbul, Pycnonotus cafer Sooty-headed Bulbul, Pycnonotus aurigaster Blue-wattled Bulbul, Pycnonotus nieuwenhuisii (disputed) More
Light-vented Bulbul Pycnonotus sinensis = Sanyang, China - Jun, 2008 More
Light-vented Bulbul - Pycnonotus sinensis Bulbul de Chine = Bulbul de Chine Gallery : © Neil Fifer Order : Passériformes Family : Pycnonotidae Species : Light-vented Bulbul Reference: nefi9032 Other pictures Exif data Model : NIKON CORPORATION NIKON D100 Exposure : 1/320 s Flash : no Copy forbidden without prior authorization. More
Light-vented Bulbul, Pycnonotus sinensis Pycnonotidae (BULBULS) Light-vented Bulbul, Pycnonotus sinensis This photo was taken in: China This photo was taken with: D70 & a Nikkor 80-200mm Notes on this photo: Lamma Island, Hong Kong. Sub-species p.s. More