Cape Bulbul
The Cape Bulbul is 19–21 cm long, mainly dull, blackish brown with a diagnostic white eye-ring, and yellow undertail coverts. The head has a small crest. The short, straight bill, legs and feet are black and the iris is dark brown. The sexes are similar in plumage.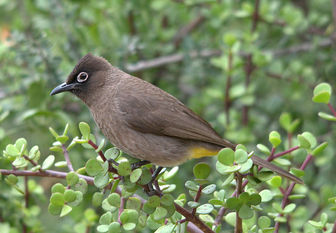 Picture of the Cape Bulbul has been licensed under a Creative Commons
Attribution
.
Original source
: Cape BulbulUploaded by berichard
Author
: Brian Ralphs from Wheaton, IL, USA
The Cape Bulbul is classified as Least Concern. Does not qualify for a more at risk category. Widespread and abundant taxa are included in this category.

Cape Bulbul Pycnonotus capensis Cape Province, South Africa (various dates) The Cape Bulbul is a southern South African endemic found in the coastal bush and fynbos of the Western and Eastern Cape, as well as exotic thickets, gardens and parks. A conspicuous species, like many other similar African Pycnonotus bulbuls it tends to sit chattering away at the top of a bush and is usually seen in pairs or small groups. More
* Cape Bulbul, Pycnonotus capensis (type species) * White-spectacled Bulbul, Pycnonotus xanthopygos * White-eared Bulbul, Pycnonotus leucotis * Red-vented Bulbul, Pycnonotus cafer * Sooty-headed Bulbul, Pycnonotus aurigaster * Blue-wattled Bulbul, Pycnonotus nieuwenhuisii (disputed) * Yellow-wattled Bulbul, Pycnonotus urostictus More
The Cape Bulbul, Pycnonotus capensis, is a member of the bulbul family of passerine birds. It is an endemic resident breeder in coastal bush, open forest, gardens and fynbos in southern South Africa. This species nests mainly in the southern spring from September to November. The nest is thick walled cup concealed by foliage in a small tree or shrub. More
Cape Bulbul Pycnonotus capensis = Described by: Linnaeus (1766) Alternate common name(s): None known by website authors Old scientific name(s): None known by website authors Photographs South Africa - Sep, 2001 More
See the Cape bulbul at Two Oceans Aquarium in this exhibit: The Sappi River Meander * Marine fish * Beaked sandfish * Black musselcracker (poenskop) * Blue hottentot * Blue-cheek goby * Blue-green chromis More
The Cape Bulbul is a common and conspicuous bird, which tends to perch at the top of a bush. It is active and noisy, usually seen in pairs or small groups foraging for fruit, nectar and insects. The most typical call of this species is a liquid whistle of two or more varied notes pit-peet-pitmajol, piet-piet-patata. Copyright: Wikipedia. This article is licensed under the GNU Free Documentation License. It uses material from Wikipedia. More
The Cape Bulbul is usually seen in pairs or small groups. It is a conspicuous bird, which tends to sit at the top of a bush. As with other toppies they are active and noisy birds. This species eats fruit, nectar and insects. The most typical call of this species is a cheerful sounding liquid call of two or more varied notes: pit-peet-pitmajol, piet-piet-patata. This species nests mainly in September to November. More
Cape Bulbul, Pycnonotus capensis = Cape Bulbul, Pycnonotus capensis by f_snarfel.Pycnonotus capensis, Cape Bulbul, Kuils River, South Africa To take full advantage of Flickr, you should use a JavaScript-enabled browser and install the latest version of the Macromedia Flash Player. Would you like to comment? Sign up for a free account, or sign in (if you're already a member). Guest Passes let you share your photos that aren't public. More
Cape Bulbul - Pycnonotus capensis Bulbul du Cap = Bulbul du Cap Comment : 2.08.05 - Bulbul du Cap - Betty's Bay - Afrique du Sud Gallery : © Vincent Palomares Site web : Galerie V. More
Cape Bulbul, Pycnonotus capensis Kaapse Tiptol Spotted Thick-knee Burhinus capensis Gewone Dikkop Speckled Pidgeon Speckled Pidgeon, Columba guinea Kransduif Artists of Stellenbosch: you are invited to order your own gallery at a discount! Back to GalleriesBooks on South African Birds: The famous RobertsThe latest Roberts Birds of South Africa who would not want to own it? Birds Of Southern Africa CD Rom A More
Cape Bulbul Pycnonotus capensis WT38808 WT38789 WT38535 Simon's Town, South Africa; May 2008 (4) WT38357 WT000a Anysberg, South Africa; Sep 1996 home family list next species back to bulbul list More
Cape Bulbul, Pynonotus capensis Cape Bulbul (1) Cape Bulbul, Pycnonotus capensis Cape bulbul Cape Bulbul - Kaapse Tiptol - Pycnonotus capensis Locations for recordings with GPS coordinates page 1 Cape Bulbul call Pycnonotus capensis (0:28) Don Jones XC43655 23-9-2003, South Africa page 1 © 2005-2010 Xeno-canto Foundation. More