Cabanis's Greenbul
The subspecies P. c. placidus is sometimes regarded as a separate species, the Placid Greenbul.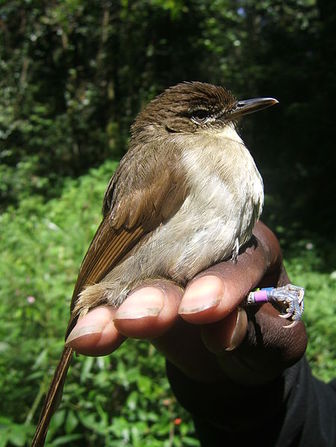 Picture of the Cabanis's Greenbul has been licensed under a
GFDL
Original source
: Tom Callens
Author
: Tom Callens
Permission
: GNU Free Documentation License
The Cabanis's Greenbul is classified as Least Concern. Does not qualify for a more at risk category. Widespread and abundant taxa are included in this category.

The Cabanis's Greenbul (Phyllastrephus cabanisi) is a species of songbird in the Pycnonotidae family. It is found in Angola, Burundi, Democratic Republic of the Congo, Kenya, Malawi, Mozambique, Rwanda, Sudan, Tanzania, Uganda, and Zambia. Its natural habitats are subtropical or tropical dry forests, subtropical or tropical moist lowland forests, subtropical or tropical moist montane forests, and subtropical or tropical moist shrubland. The subspecies P. c. placidus is sometimes regarded as a separate species, the Placid Greenbul. More
Cabanis's Greenbul and a pair of Chestnut Wattle-eye. In some of the denser thicket, a Red-tailed Bristlebill and African Broadbill called. Numerous Large False Mopane (Guibourtia coleasperma) were in full seed attracting birds and decorating the pathway. The canopy produced a very shy flash of red in the form of a Shallow's Turaco and a small group of Buff-throated Apalis. More
Cabanis's Greenbul is found in the following countries: 1. Angola 2. Kenya 3. Malawi 4. Mozambique 5. Rwanda 6. Sudan 7. Tanzania 8. Uganda 9. More
Cabanis's Greenbul (Phyllastrephus cabanisi) by Louis A. Hansen, Henrik Kisbye, Louise Pedersen, Marcel Rahner, the late Jens Otto Svendsen. Kimhandu Hill, Uluguru South F.R, Morogoro Region, Tanzania, 11-10-1993 XC48088 Cabanis's Greenbul (Phyllastrephus cabanisi) by Louis A. More