Stripe-cheeked Greenbul
The subspecies A. m. olivaceiceps and A. m. striifacies are sometimes regarded as separate species.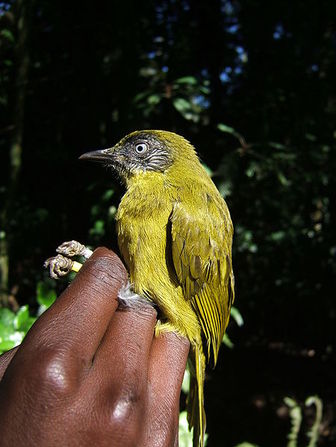 Picture of the Stripe-cheeked Greenbul has been licensed under a
GFDL
Original source
: Tom Callens
Author
: Tom Callens
Permission
: GNU Free Documentation License
The Stripe-cheeked Greenbul is classified as Least Concern. Does not qualify for a more at risk category. Widespread and abundant taxa are included in this category.

Distribution of Stripe-cheeked greenbul in southern Africa, based on statistical smoothing of the records from first SA Bird Atlas Project (© Animal Demography unit, University of Cape Town; smoothing by Birgit Erni and Francesca Little). Colours range from dark blue (most common) through to yellow (least common). Food It eats fruit, seeds, insects and worms, creeping along branches in the tree canopy, sometimes hawking prey aerially or plucking them from the ground. More
Stripe-cheeked Greenbul Andropadus milanjensis IUCN Red List history Year Category 2009 Least Concern 2008 Least Concern 2004 Least Concern 2000 Lower Risk/Least Concern 1994 Lower Risk/Least Concern 1988 Not Recognised Range Estimate More
Stripe-cheeked Greenbul Andropadus milanjensis Olive-headed Greenbul Andropadus olivaceiceps Stripe-faced Greenbul Andropadus striifacies Little Greenbul Andropadus virens Little Grey Greenbul Andropadus gracilis Ansorge's Greenbul Andropadus ansorgei Plain Greenbul Andropadus curvirostris Slender-billed Greenbul Andropadus gracilirostris Yellow-whiskered Greenbul Andropadus latirostris Sombre Greenbul Andropadus importunus Golden Greenbul Calyptocichla serina Honeyguide Greenbul Baeopogon indicator Sjostedt's Greenbul Baeopogon clamans Spotted Greenbul Ixonotus guttatus Joyful More
Stripe-cheeked Greenbul Andropadus milanjensis = Bona Manzi, KwaZulu-Natal, South Africa - Date unknown More
XC30337 :: Stripe-cheeked Greenbul (Andropadus milanjensis striifacies) = Recording data Recordist The late Jens Otto Svendsen and Louis A. Hansen Date 1991 Time ? Country Tanzania Location Ndundulu, Udzungwa Mts, Iringa Region Longitude E36.29'58" Latitude S7. More