Chinspot Batis
The Chinspot Batis is a species of bird in the Platysteiridae family. It is found in Angola, Botswana, Burundi, Republic of the Congo, Democratic Republic of the Congo, Gabon, Kenya, Lesotho, Malawi, Mozambique, Namibia, Rwanda, South Africa, Sudan, Swaziland, Tanzania, Uganda, Zambia, and Zimbabwe. Its natural habitats are subtropical or tropical dry forests, subtropical or tropical moist lowland forests, subtropical or tropical moist montane forests, and dry savanna.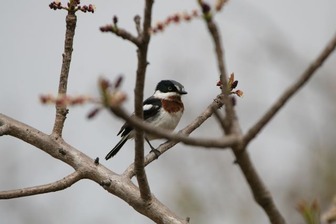 Picture of the Chinspot Batis has been licensed under a Creative Commons
Attribution-Share Alike
.
Original source
: email
Author
: Rosalynn Anderson-LedererPermission(Reusing this file)The permission for use of this work has been archived in the Wikimedia OTRS system.It is available here for users with an OTRS account. If you wish to reuse this work elsewhere, please read the instructions at COM:REUSE. If you are a Commons user and wish to confirm the permission, please leave a note at the OTRS noticeboard.Ticket link: https://ticket.wikimedia.org/otrs/index.pl?Action=AgentTicketZoom&TicketID=3284812
The Chinspot Batis is classified as Least Concern. Does not qualify for a more at risk category. Widespread and abundant taxa are included in this category.

Chinspot Batis (Batis molitor) (Küster, 1836) summary taxon grid map Wikipedia NatureServe Google: Web|Scholar ITIS Birdlife Google|Flickr Xeno-Canto - photo: mpgoodey Photo powered by flickr.com. More
Jan 24 Chinspot Batis - Batis molitor The Chinspot Batis, Batis molitor, is a songbird from the southern two-thirds of the African continent. It is quite common and lives in most types of habitats there. They are primarily insect eaters hawking insects from a perch or hunting them on the ground. Classification: Order: Passeriformes Family: Platysteiridae Genus: Batis Species: B. More
Chinspot Batis (Batis molitor) = Date: July 2004 Location: Arusha (Tanzania) See general information about Chinspot Batis. More
* Chinspot Batis, Batis molitor * Pale Batis, Batis soror * Pririt Batis, Batis pririt * Senegal Batis, Batis senegalensis * Grey-headed Batis, Batis orientalis * Black-headed Batis, Batis minor * Pygmy Batis, Batis perkeo * Verreaux's Batis, Batis minima * Ituri Batis, Batis ituriensis * Fernando Po Batis, Batis More
The Chinspot Batis (Batis molitor) is a species of bird in the Platysteiridae family. It is found in Angola, Botswana, Burundi, Republic of the Congo, Democratic Republic of the Congo, Gabon, Kenya, Lesotho, Malawi, Mozambique, Namibia, Rwanda, South Africa, Sudan, Swaziland, Tanzania, Uganda, Zambia, and Zimbabwe. Its natural habitats are subtropical or tropical dry forests, subtropical or tropical moist lowland forests, subtropical or tropical moist montane forests, and dry savanna. More
Chinspot Batis Batis molitor = * Home Expand Log in Menu item Register Menu item Log out Menu item Change login details Menu item Why register? Expand UK & Ireland Menu item Birding sites More
Stamps showing Chinspot Batis Batis molitor Chinspot Batis Batis molitor Chinspot Batis Batis molitor Distribution map for Chinspot Batis, range 140.004 Chinspot Batis IOC v2.4: 5830 Links will open countrypage in new window - Guyana 07.08.2002 Birds of Central America Sheet - Uganda 06.12. More
Aspects of the breeding biology of the Chinspot Batis Batis molitor in Acacia savanna in Swaziland. = * Contributors Contributors * Widgets & Gadgets Widgets & Gadgets * Dictionary Dictionary * Thesaurus Thesaurus * Related Products Related Products * Workspace Workspace No results found. More
* The Chinspot Batis Batis molitor mimics the Woodwards Batis Batis fratrum evidence of interspecific competitive acoustic mimicry * My Britannica NEW ARTICLE * ADD TO YOUR SITE * COMMENT * SAVE * More
Chinspot Batis Batis molitor = Described by: K More
Chinspot Batis - Batis molitor Pririt molitor = Pririt molitor Comment : Juillet 2008 L'oiseau et son nid Gallery : © Didier Buysse Site web : Vision d'oiseaux Order : Passériformes Family : Platysteiridae Species : Chinspot Batis Sex : Female Age : Adult Reference: dibu62666 Other pictures Date taken : 2008 Jul More
Chinspot Batis (Batis molitor) | Collared Sunbird Hedydipna collaris | Common Sandpiper (Actitis hypoleucos) | Cormorants, darters | Dark-capped bulbul (Pycnonotus tricolor) | Ducks & Geese | Flycatchers | Fork-tailed Drongo (Dicrurus adsimilis) | Francolins | Golden-Breasted Bunting (Emberiza flaviventris) | Golden-tailed woodpecker (Campethera abingoni) | Green-winged Macaw or Red-and-green Macaw (Ara chloroptera) | Green-winged Pytilia (Melba Finch)(Pytilia melba) | Helmeted Guineafowl (Numida meleagris) | Herons, Egrets & Hamerkop | Hoopoe (Upupa epops) | Hornbills | House Sparrow (Passer More
The male chinspot batis has a black breast band while the female (shown above and in slideshow images 9 & 10) has a chestnut breast band and throat patch. Widespread in Tanzania as locations of the images in the slideshow indicate. More
Chinspot Batis ( Batis molitor, family: Malaconotidae) = Chinspot batis kruger national park.gif The Chinspot Batis (Latin name Batis molitor) is described in Roberts Birds of Southern Africa, 7th Edition. This bird has a unique Roberts number of 701 and you will find a full description of this bird on page 716 also a picture of the Chinspot Batis on page 720. The Chinspot Batis belongs to the family of birds classified as Malaconotidae. More
Chinspot Batis Batis molitor E35200 Modimolle, South Africa; Nov 2009 WT19908 WT19942 Sericea, South Africa; Dec 2006 (2) WT 04318 WT04319 More
Chinspot Batis (Batis molitor puella)) Ngulia Lodge in Tsavo West NP, Kenya - November 28, 2005 Minolta Dimage Z1 © Leif Sandgren - All text and images are Copyright © 2004-2009, Wildbirdgallery.com. All rights reserved. More