Blue Manakin
Its natural habitats are subtropical or tropical moist lowland forests, subtropical or tropical moist montane forests, and heavily degraded former forest. It is generally common in the appropriate habitats within its range. Formerly, the name Swallow-tailed Manakin was used widely, but as it is misleading , this name has largely been abandoned for the superior Blue Manakin. As suggested by this common name, the male is - by far - the manakin with most blue to the plumage. The entire body is bright blue, while the wings, tail and head, except for the red cap, are black. The far duller female is greenish overall. Both sexes have elongated central rectrices.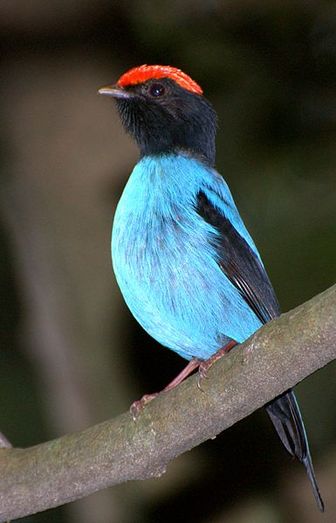 Picture of the Blue Manakin has been licensed under a Creative Commons
Attribution-Share Alike
.
Original source
: Chiroxiphia_caudata.jpg: Dario Sanches
Author
: Chiroxiphia_caudata.jpg: Dario Sanches
The Blue Manakin is classified as Least Concern. Does not qualify for a more at risk category. Widespread and abundant taxa are included in this category.

The Life of Birds - Blue Manakin The Life of Birds - Blue Manakin Tiere YouTube The unusual courtship ritual of the blu... (mehr...) The unusual courtship ritual of the blue manakin, as shown in David Attenborough's documentary, The Life of Birds. More
The Blue Manakin or Swallow-tailed Manakin (Chiroxiphia caudata) is a species of bird in the Pipridae family. It is found in north-eastern Argentina, southern and south-eastern Brazil, and Paraguay. Its natural habitats are subtropical or tropical moist lowland forests, subtropical or tropical moist montane forests, and heavily degraded former forest. It is generally common in the appropriate habitats within its range. More
birdwatching Blue Manakin ornithology wildlife Equipment: Canon HV20 Asset Information closeUpdated: 17 months agoShortGenre: WildlifeDuration: 00:00:00Definition: This Video is a High Definition (HD) VideoDimensions: 1920 x 1080Size: 91.36MB Share closeSend Link by Email Digg It!Add To StumbleUponAdd to Del.icio. More
The Blue Manakin is a poster bird for the Atlantic Forest in southeastern Brazilian. It is very vocal and the male has a fantastic blue coat and red cap, with black head and wings. Like many other manakins the female is a cute little green bird with pink bill and legs. Like the male, she has forked extended retrices (longish tail feathers - just visible in bottom photo). The juvenile male (also below in "more photos") is duller with a greenish coat. More
Blue Manakin Chiroxiphia caudata Blue Manakin Chiroxiphia caudata Blue Manakin Chiroxiphia caudata 119.004 Blue Manakin IOC v2.4: 5403 Links will open countrypage in new window - Brazil 27.05.1973 Tropical birds and plants - Paraguay 18.04.1985 Audubon - Paraguay 06.07.1995 Neo-tropical ornithological congress - NO IMAGE PRESENTED - Brazil 22.09. More