Flame Robin
The position of the Flame Robin and its Australian relatives on the passerine family tree is unclear; the Petroicidae are not closely related to either the European or American Robins but appear to be an early offshoot of the Passerida group of songbirds. The Flame Robin is a predominantly insectivorous, pouncing on prey from a perch in a tree, or foraging on the ground.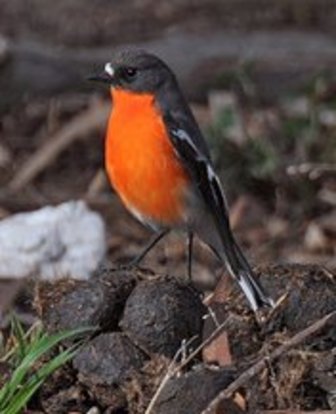 Picture of the Flame Robin has been licensed under a Creative Commons
Attribution-Share Alike
.
Original source
: cropped version of File:Petroica phoeniceabungendore.jpg
The Flame Robin is classified as Near Threatened (NT), is close to qualifying for or is likely to qualify for a threatened category in the near future.

Flame Robins are found in a broad coastal band around the south-east corner of the Australian mainland, from southern Queensland to just west of the South Australian border. The species is also found in Tasmania. Habitat Flame Robins prefer forests and woodlands up to about 1800 m above sea level. More
Flame Robins mostly breed in and around the Great Dividing Range and on the Tasmanian highlands. With the coming of cooler autumn weather, most birds disperse to lower and warmer areas, some travelling as far as eastern South Australia, southern Queensland, or (in the case of some Tasmanian birds) across Bass Strait to Victoria. Birds breeding in the warmer climates north of the Blue Mountains tend to retain their highland territories all year round. More
Flame robinedit this page = Birds Wiki, the online field guide that you can edit Flame robins, or Petroica phoenicea, are so called because of the males flame colored underparts. They are also known as bank robins. More
Flame Robin, at nest. Flame Robin, at nest. Photo: M Seyfort © Australian Museum Flame Robin. Image from: John Gould (1804-81) The birds of Australia 1840-48. 7 vols. 600 plates Artists: J. Gould and E. Gould; Lithographer: E. Gould. Flame Robin. Image from: John Gould (1804-81) The birds of Australia 1840-48. 7 vols. 600 plates Artists: J. Gould and E. Gould; Lithographer: E. Gould. Photo: Research Library © Australian Museum Flame Robin, male. Flame Robin, male. More
The Flame Robin (Petroica phoenicea) is a small passerine bird native to Australia. It is a moderately common resident of the coolest parts of south-eastern Australia, including Tasmania. Like the other two red-breasted Petroica robins—the Scarlet Robin and the Red-capped Robin—it is often simply but inaccurately called the robin redbreast. Like many brightly coloured robins of the Petroicidae it is sexually dimorphic. Measuring 12–14 cm (5–6 in) long, the Flame Robin has a small thin black bill and eyes. More
Flame Robin Werrikimbe NP Flame Robin Werrikimbe NP Enquire About this Image Image More
The Flame Robin is a small (14 cm) songbird with dark grey upperparts, orange-red underparts from chin to belly, a small white forehead spot, and white flashes in the wings and tail. The female is brown with white flashes in the wings and tail. The Scarlet Robin is similar, but the male has black upperparts and throat, a red breast, white lower belly, and a large white forehead spot, while the female has a red-tinged breast. 2. More
so this Flame Robin taken yesterday is my first posting in quite a while - I hope to gradually spend more time online and catch up with your photos as soon as I can! To take full advantage of Flickr, you should use a JavaScript-enabled browser and install the latest version of the Macromedia Flash Player. Comments view profile Birds of the South Pro User says: Yes, you've been missed Stephen. More
This Flame Robin was still at the courting stage, while another pair was already nesting. See where this picture was taken. To take full advantage of Flickr, you should use a JavaScript-enabled browser and install the latest version of the Macromedia Flash Player. More
The Flame Robin has orange breast and throat with grey head and back. The belly is white from legs to under tail. The female is greyish brown above with pale stripe on wing. More
Flame robin Flame Robin (Photograph by Dave Watts) Description The conspicuous male Flame Robin has a bright orange-red breast and throat that extends close to the bill and contrasts with a dark slate-grey head, throat and back. There is a clear white stripe on the folded wing and white on the lower belly and undertail. There is a small white forehead patch. The bill is black and the legs dark brown. More
Flame Robins spend the summer months in the high country where there breed moving to lower (and a more temperate climate) ground in winter when the snow sets in. Captured with a Canon EOS500D with a 150-500@500 handheld. Steve is the Principal Ecologist at EnviroKey, a specialist ecological consultancy that undertakes surveys, research and education programs across Australia. More
Flame Robin is restricted to foothill and mountains of south-eastern Australia. Open eucalypt woodland and farmland are its preferred habitat with birds moving to higher altitudes in summer and lower altitudes in winter. The nest is a rough cup shape, constructed from bark strips, moss and spiders webs and lined with animal fur and feathers. They usually lay 3 eggs, which are greeny-blue in colour. Nesting occurs between August and January. More
you look in a field guide you will see that the Flame Robin has red almost up to the beak and the head and back are dark grey - not black. The Scarlet Robin has a black throat and the head and back are blacker. More
The Flame Robin (Petroica phoenicea) is a moderately common resident of the coolest parts of south-eastern Australia, including Tasmania. Like the other two red-breasted Petroica robins—the Scarlet Robin and the Red-capped Robin—it is often simply but inaccurately called the robin redbreast. More
Male Flame Robins have a bright orange breast and throat, and are white on the lower belly and undertail. The top of their head and back is dark slate grey and there is a clear white stripe on the folded wing. The bill is black and the legs dark brown. The female is quite different from the male, being mostly grey-brown with a pale buff wing stripe, and a mostly white outer tail feather. The birds measure 12.5 to 14 cm long. More