White-browed Sparrow-Weaver
It ranges from 17 to 19 cm in length and is characterized by a broad, white eyebrow stripe and white rump visible in flight. While the male White-browed Sparrow-weaver sports a black bill, the female's bill is horn-colored; that of the juvenile is pinkish-brown. In Zimbabwe, the White-browed Sparrow-weaver shows faint brown spotting across its white breast.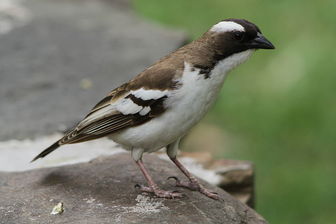 Picture of the White-browed Sparrow-Weaver has been licensed under a Creative Commons
Attribution
.
Original source
: originally posted to Flickr as Bird (sparrow like)
Author
: ValentinaPermission(Reusing this file)This image, which was originally posted to Flickr.com, was uploaded to Commons using Flickr upload bot on 21:49, 30 April 2010 (UTC) by Snowmanradio (talk). On that date it was licensed under the license below.This file is licensed under the Creative Commons Attribution 2.0 Generic license.You are free:to share – to copy, distribute and transmit the work
The White-browed Sparrow-Weaver is classified as Least Concern. Does not qualify for a more at risk category. Widespread and abundant taxa are included in this category.

In Zimbabwe, the White-browed Sparrow-weaver shows faint brown spotting across its white breast. Voice The White-browed Sparrow-weaver may emit either a brief chik-chick or a loud, fluid, cheoop-preeoo-chop whistle. Similar species The Yellow-throated Petronia has a pinkish brown (not black) bill, a buff (not white) eyebrow stripe, black (not pink) feet, and yellow shading at the bottom of a white throat. More
Distribution of White-browed sparrow-weaver in southern Africa, based on statistical smoothing of the records from first SA Bird Atlas Project (© Animal Demography unit, University of Cape Town; smoothing by Birgit Erni and Francesca Little). Colours range from dark blue (most common) through to yellow (least common). See here for the latest distribution from the SABAP2. More
View all pictures of White-browed Sparrow-Weaver View all pictures of White-browed Sparrow-Weaver show section External Links (0) We currently have no external links for this species. More
Plocepasser mahali - White-browed Sparrow-Weaver - Mahali à sourcils blancs ou Moineau-tisserin à sourcils blancs - 19/02/10 White-browed sparrow-weaver (Plocepasser mahali), Koringvoel Locations for recordings with GPS coordinates page 1 White-browed Sparrow-Weaver Song Plocepasser mahali (0:30) Franck BRUNELIERE, Grandeur Nature Safaris XC18448 01-03-2006, Namibia White-browed Sparrow-Weaver Song Plocepasser mahali (0:55) Patrik Åberg XC28612 23-12-2006, South Africa More