White-winged Snowfinch
It is a resident breeding species on bare mountains, typically above 1500 m, across southern Europe and through central Asia to western China. It nests in crevices or rodent burrows, laying 3-4 eggs.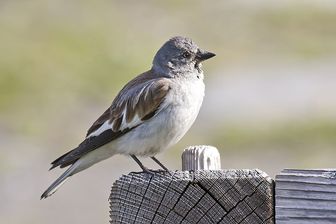 Picture of the White-winged Snowfinch has been licensed under a Creative Commons
Attribution-Share Alike
.
Original source
: Own work
Author
: Andreas TreptePermission(Reusing this file)This photo was taken by Andreas Trepte.Please credit this photo Andreas Trepte, www.photo-natur.de.
The White-winged Snowfinch is classified as Least Concern. Does not qualify for a more at risk category. Widespread and abundant taxa are included in this category.

White-winged Snowfinch is a large stocky sparrow at 16.5–19 cm in length. It has brown upperparts, white underparts and a grey head. There is a long narrow white wing panel. In summer, the bill is black, and there is a black bib. The bib is lost in winter and the bill becomes yellow. Sexes are similar. In the Swiss Alps in December showing winter colours including an orange beak It is transformed in flight. More
are usually very similar, although the male White-winged Snowfinch has a distinctive grey head. Young birds are a drabber version of the adult. They have simple repetitive songs, given from a rock or during the elaborate circling display flight. The call is a simple chip or similar. Most snowfinches breed above 3,500 m ASL, but the White-winged Snowfinch can occur from 1,800 m upwards. These hardy birds inhabit bare open mountain grassland. More
White-winged Snowfinch (Montifringilla nivalis kwenlunensis) Lhasa, Tibet - June 4, 2004 © Björn Anderson - All text and images are Copyright © 2004-2009, Wildbirdgallery.com. All rights reserved. More
White-winged Snowfinch, Montifringilla nivalis White-winged Snowfinch, Montifringilla nivalis White-winged Snowfinch, Montifringilla nivalis February 8th 2010 Val d Aosta, Alagna, Italy More
After this successful rarity birding the White-winged Snowfinch became my 343th bird species recorded in Hungary. Just for a reference, the Hungarian birder who have seen the most species for Hungary have recorded 362 bird species so far. It wasn't a lifer to me as I have already seen in Turkey. 6 January 2010 Comments Widget 6. 1 2010 © Gyorgy Szimuly l White-winged Snowfinch at the Fort of Somoskö. More
White-winged Snowfinch Montifringilla nivalis = Described by: Linnaeus (1766) Alternate common name(s): Eurasian Snowfinch, Snow Finch, Common Snowfinch Old scientific name(s): None known by website authors Photographs Italy - Date unknown More
White-winged Snowfinch, Montifringilla nivalis Passeridae (OLD WORLD SPARROWS) White-winged Snowfinch, Montifringilla nivalis This photo was taken in: Spain - Pyrenees This photo was taken with: Nikon Coolpix 995 handheld to a leica APO scope with 32x lens The photo was taken by: Steve Bird , Birdseekers Spanish Pyrenees report ( 10 Days ) 128 Species of birds seen, 69 Species More
White-winged Snowfinch - Montifringilla nivalis Niverolle alpine = Niverolle alpine Le guide ornitho : Les 848 espèces d'Europe en 4000 dessins Gallery : © Yves Dubois Site web : La Piafologie à l'état pur Order : Passériformes Family : Passeridae Species : White-winged Snowfinch Reference: yvdu79108 Other pictures Date taken : 2010 Geographic data Country : France (fr) More
White-winged Snowfinch is a mostly resident species of high mountains breeding closest to Hungary in the Alps and the Dinari Mountains of Croatia and Serbia. There are no snowfinches breeding in the Carpathians. There was an older record of White-winged Snowfinch in Hungary but it was recently deleted because it turned out from the original photographs that the plants on the picture are not occurring at the reported site in Hungary, so it was probably a falsified record. More
White-winged Snowfinch Montifringilla nivalis = Italy - Date unknown More
White-winged Snowfinch Montifringilla nivalis alpicola - Adult male in breeding plumage White-winged Snowfinch Photographer : More
White-winged Snowfinch's food is mainly seeds with some insects. It is fearless, and will forage around ski resorts. It is hardy, and rarely descends below 1000 m even in hard winter weather. There are four subspecies. The darkest, M. n. henrici of Tibet and western China has earth-brown upperparts and crown, and greyer underparts. It is sometimes split as the Tibetan Snowfinch, Montifringilla henrici. However, Tibetan Snowfinch, confusingly, more often refers to the Black-winged Snowfinch Montifringilla adamsi. More