Blue-winged Warbler
The Blue-winged Warbler, Vermivora pinus, is a fairly common New World warbler, 11.5 cm long and weighing 8.5 g. It breeds in eastern North America in southern Ontario and the eastern USA. Its range is extending northwards, where it is replacing the very closely related Golden-winged Warbler, Vermivora chrysoptera.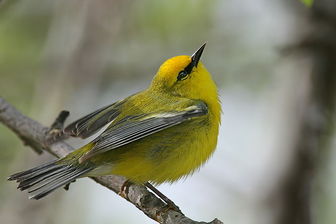 Picture of the Blue-winged Warbler has been licensed under a
GFDL
Original source
: self-made / http://www.pbase.com/wwcsig/image/59657656
Author
: WwcsigPermission(Reusing this file)gfdl-1.2
Permission
: GNU Free Documentation License
The Blue-winged Warbler is classified as Least Concern. Does not qualify for a more at risk category. Widespread and abundant taxa are included in this category.

The Blue-winged Warbler, Vermivora pinus, is a fairly common New World warbler, 11.5 cm long and weighing 8.5 g. It breeds in eastern North America in southern Ontario and the eastern USA. Its range is extending northwards, where it is replacing the very closely related Golden-winged Warbler, Vermivora chrysoptera. It is migratory, wintering in southern Central America. It is a very rare vagrant to western Europe, with one bird wandering to Ireland. More
Blue-winged Warbler Range MapView dynamic map of eBird sightings Field MarksHelp - * Adult malePopOutZoom In Adult male * © Marie Read All About Birds > Bird Guide > Blue-winged Warbler Birding Basics * Bird Guide * Building Skills * Attract Birds More
The breeding male Blue-winged Warbler is unmistakable. It is yellow above and below. The wings are gray with two white bars, and there is a black eye stripe. Females are duller, but otherwise similar. The breeding habitat is open scrubby areas. Blue-winged Warblers nest on the ground or low in a bush, laying 4-7 eggs in a cup nest. These birds feed on insects, and spiders. The song is a series of buzzing notes. The call is a sharp chip. More
Today the Blue-winged Warbler breeds in the eastern United States from southeastern Minnesota and southern Ontario south to Missouri, Arkansas, and Tennessee. It shuns heavy agricultural areas, for example, the corn and soybean desert of central Illinois. Blue-winged Warblers occur as breeders on a number of Audubon Important Bird Areas including New York's Hi-Tor Wildlife Management Area IBA, Long Island Pine Barrens IBA, and Connecticut's Bent of the River Audubon Center IBA. More
The Blue-winged Warbler is the more southerly member of the species pair, but it is expanding northward at the expense of Golden-winged Warblers. It is probable that at some time in the past, their ranges did not overlap, but with the alteration of the environment by man and the expansion of suitable early successional habitat, the two species have met. As a result, the range of the Golden-winged Warbler is retreating northward. More
The Blue-winged Warbler has a very large range, estimated at 1,800,000 square kilometers. The bird is primarily found in North America and Bahamas, as well as Central and South America, but has been seen in Jamaica as well as Saint Pierre and Miquelon. It prefers temperate grassland and shrubland climates and has an estimated global population of 390,000 individuals. The species is not believed to be nearing the population decline thresholds for inclusion to the IUCN Red List. More
Blue-winged Warbler is a small songbird. Male has bright yellow head and underparts, white or yellowish-white undertail coverts, black eye-line, blue-grey wings with two white wing bars, greenish-yellow back and nape. Legs are blackish. Female is duller overall. In both sexes, bill is long, thin and very pointed. Extensive white on tail is visible from below. Immature is similar, but duller than adults. More
Blue-winged Warbler 15 - Galveston Co, TX - April Blue-winged Warbler 11 - Galveston Co, TX - April Blue-winged Warbler 12 - Galveston Co, TX - April Blue-winged Warbler 13 - Galveston Co, TX - April Blue-winged Warbler 14 - Galveston Co, TX - April Blue-winged Warbler 4 - Galveston Co, TX - April Blue-winged Warbler 6 - Galveston Co, TX - April Blue-winged Warbler X Golden-winged Warbler Hybred 1 - Galveston Co, TX More
Blue-winged Warbler Information Length: 4.5 - 5" Breeding Habitat: Nests at forest edges, in forest clearings, at edges of wetlands, and in overgrown pastures. Blue-winged Warbler Photo © Robert Royse Strong preference for habitat that includes dense, shrubby growth or dense thickets. Click to enlarge Diet: Insects, especially caterpillars, beetles, ants, crickets, and grasshoppers; spiders. More
The breeding male Blue-winged Warbler is unmistakable. It is yellow above and below. The wings are gray with two white bars, and there is a black eye stripe. Females are duller, but otherwise similar. Blue winged warbler This species forms two distinctive hybrids with Golden-winged Warbler. The commoner, genetically dominant Brewster's Warbler is gray above and whitish (male) or yellow (female) below. More
Blue-winged Warbler Habitat Model go to: USFWS Gulf of Maine Watershed Habitat Analysis go to: Species Table Feedback: We welcome your suggestions on improving this model! Draft Date: March, 2001 Species: Blue-winged warbler, Vermivora pinus Use of Study Area Resources: Reproduction. Blue-winged warblers nest in much of the eastern U.S., northeast through Massachusetts, the southern tip of New Hampshire, and the extreme southern tip of Maine. More
Bent Life History for the Blue-winged Warbler - the common name and sub-species reflect the nomenclature in use at the time the description was written. BLUE-WINGED WARBLER VERMIVORA PINUS (Linnaeus) HABITS Bagg and Eliot (1937) write: "According to Wilson, this species was discovered by William Bartram, who gave it the descriptive name Parus aureus alis caeruleis (Blue-winged Golden Tit), and sent a specimen to 'Mr. Edwards' by whom it was drawn and etched. More
Blue-winged warblers are one of the earliest of spring arrivals, the males often singing in established territories by late April, sometimes earlier. There range is east of the Mississippi river along the Great Lakes to New York and south through Tennessee. But their visit with us is brief, by mid-July, after the young are fledged, the species virtually disappear from our area and winters in Mexico to Honduras and Panama. More
searching for the BLUE-WINGED WARBLER at the Squawback Rd. site along Indian Ford Creek. I was rewarded with good views of the bird from about 30 feet away for about 1 minute at about 7:35 AM before the bird disappeared.... I can't add much to Greg's original description except that I would describe the wings as blue-gray with some olive tones rather than gray as he did. Two distinct wing bars were noticeable. The tail was also blue-gray. More
The illustrations of Golden-winged and Blue-winged Warblers used in this site are by James Coe. More
The Blue-winged Warbler's common name is nicely descriptive; aside from the yellow or yellow-olive of its head and body, the first thing once notices about this Neotropical migrant is its slate-blue wings (above), with a slate-blue tail to match. Another noticeable aspect of the wings is that the primary feather coverts and lesser coverts have pale tips, giving rise to two white wing bars. These are whiter in adults and wider in males. More
Prior to European arrival, the Blue-winged Warbler's primary range was the Ozark Mountains east through the savannas of Tennessee and Kentucky. As European settlers cleared the land, the cut forests and abandoned fields succeeded to habitats favoring this shrubland warbler, and populations increased and moved gradually northward and eastward into its present range, from southeastern Minnesota south to northern Arkansas and east to southern Canada, Pennsylvania, New York, and southern New England. More