Bahama Yellowthroat
It is closely related to Common Yellowthroat, Altamira Yellowthroat and Belding's Yellowthroat, with which it forms a superspecies, and was formerly considered conspecific.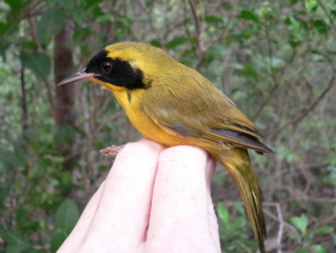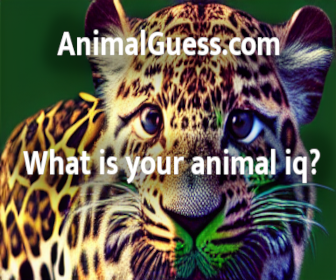 Picture of the Bahama Yellowthroat has been licensed under a Creative Commons
Attribution
.
Original source
: violet_q
Author
: violet_q
The Bahama Yellowthroat is classified as Least Concern. Does not qualify for a more at risk category. Widespread and abundant taxa are included in this category.

The Bahama Yellowthroat, Geothlypis rostrata, is a New World warbler. It is a resident breeder endemic to the Bahamas. It is closely related to Common Yellowthroat, Altamira Yellowthroat and Belding's Yellowthroat, with which it forms a superspecies, and was formerly considered conspecific. The breeding habitat of the Bahama Yellowthroat is dense dry or damp low scrub, usually drier than the areas used by wintering Common Yellowthroats. More
* Bahama Yellowthroat, Geothlypis rostrata * New Providence Yellowthroat, Geothlypis rostrata rostrata (extinct: 1990s?) * Olive-crowned Yellowthroat, Geothlypis semiflava * Black-polled Yellowthroat, Geothlypis speciosa * Masked Yellowthroat, Geothlypis aequinoctialis * Southern Yellowthroat, Geothlypis (aequinoctialis) velata * Black-lored Yellowthroat, Geothlypis (aequinoctialis) More
to the Bahama Yellowthroat and to Belding's Yellowthroat of Baja California, and has sometimes been considered conspecific with these, as well as with other Mexican yellowthroats. Throughout its vast breeding range across most of North America south of the tundra, from southeast Alaska to Newfoundland and south into Mexico, it is one of the most abundant warblers, although in the arid Southwest it is usually found only around watercourses. More
* Bahama Yellowthroat, Geothlypis rostrata * Olive-crowned Yellowthroat, Geothlypis semiflava: Found in Colombia, Costa Rica, Ecuador, Honduras, Mexico, Nicaragua, and Panama. Its natural habitats are subtropical or tropical moist shrubland and heavily degraded former forest. * Black-polled Yellowthroat, Geothlypis speciosa: Endemic to Mexico. Its natural habitats are freshwater lakes and freshwater marshes. More
This page contains links to photos of Bahama Yellowthroat (Geothlypis rostrata) More
Bahama Yellowthroat (Geothlypis rostrata) photo Little Abaco, Bahamas April, 2004 More
Harrier and had our first good view of a Bahama Yellowthroat at the edge of town. Abaco 'Jon the Mon'4/2 Friday Arrive at Crown Haven by ferry, Angel Fish Point, Bahama Star Groves, Treasure Cay Golf Course, and Marsh Harbour. The ferry ride to Abaco was fast and we only saw a few cormorants in the distance. At Bahama Star Groves we watched a female Cuban Emerald feed her newly fledged youngster, and we saw our second Bahama Yellowthroat. More
and Bahama Yellowthroat, with which it forms a superspecies, and was formerly considered conspecific. The breeding habitat is freshwater marshes and lagoons, usually with cattails. It builds a cup nest of dead cattails which is usually attached to low on the stem of a living cattail. It lays 2-4 eggs, usually 3. Like other yellowthroats it forages low in vegetation and feeds on insects and other small invertebrates. More
Results for: bahama yellowthroatTranslations 1 - 13 of 13 English English Finnish Finnish bahama yellowthroat bahamannaamiokerttuli, Geothlypis rostrata bahama islands Bahamasaaret bahama mockingbird isomatkija, Mimus gundlachii bahama swallow bahamanpääsky, Tachycineta cyaneoviridis bahama woodstar bahamankolibri, Calliphlox evelynae altamira yellowthroat suolakkokerttuli, Geothlypis flavovelata masked yellowthroat luhtanaamiokerttuli, More
Bahama Yellowthroat Geothlypis rostrata 2009 IUCN Red List Category (as evaluated by BirdLife International - the official Red List Authority for birds for IUCN): Least Concern Justification Although this species may have a small range, it is not believed to approach the thresholds for Vulnerable under the range size criterion (Extent of Occurrence 30% decline over ten years or three generations). More
Bahama Yellowthroat Geothlypis rostrata Western Spindalis Spindalis zena 5c 26 Green Heron Butorides virescens 10c 34 Turkey Vulture Cathartes aura 15c 36 Western Osprey Pandion haliaetus 20c More
png Search for photos of Bahama Yellowthroat in the BirdForum Gallery Retrieved from "http://www.birdforum.net/opus/Bahama_Yellowthroat" Categories: Birds | Geothlypis Advertisement * This page was last modified 08:17, 29 March 2010. * This page has been accessed 1,372 times. * Privacy policy * About Opus * Disclaimers Search the net with ask. More
Warbler, Bahama Yellowthroat (similar to our Common Yellowthroat but larger), Bananaquit, the colorful Western Stripe-headed Tanager, Black-faced Grassquit, and the Greater Antillean Bullfinch. The two of us were able to enjoy the birds of Grand Bahama as we ate breakfast on our balcony at the Island Seas Resort. We thought that our life Kirtland's Warbler had appeared in the thickets close to our balcony. More
Stamps showing Bahama Yellowthroat Geothlypis rostrata Bahama Yellowthroat Geothlypis rostrata Bahama Yellowthroat Geothlypis rostrata Bargain of the day! Bahama Yellowthroat Links will open countrypage in new window - Bahamas 04.02.1991 Birds - St Vincent & Grenadines 12.03. More
and a bonus Bahama Yellowthroat on the walk in. The settlement of Staniard Creek gave us great looks at several things. Most memorable birds on this trip was a large flock of Bahama Swallows (low and in great light) and a very cooperative male Bahama Woodstar hummingbird. And the Burrowing Owls were out for our 'Owl Prowl' as usual. More
The Bahama Yellowthroat (Geothlypis rostrata) occurs on Grand Bahama, Abaco, Eleuthera and Cat Island, it is rare on New Providence and Andros. Like in many bird species, the male is more showy than the female by displaying a black mask across his face, giving him the appearance of a bandit! The yellow across his chest and belly is also much brighter than that of the female. Their thin, sharp and pointed beaks indicate that they are insect eaters. More