Prairie Warbler
These birds have yellow underparts with dark streaks on the flanks, and olive upperparts with rusty streaks on the back; they have a yellow line above the eye, a dark line through it, and a yellow spot below it. These birds have black legs, long tails, pale wing bars, and thin pointed bills. Coloring is duller in female and immatures.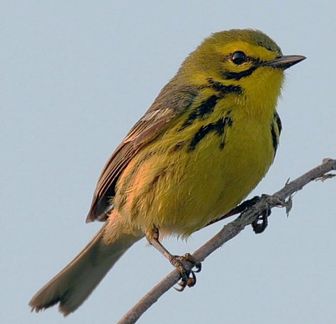 Picture of the Prairie Warbler has been licensed under a
GFDL
Original source
: http://en.wikipedia.org/wiki/File:Prairie-Warbler.jpg
Author
: Wolfgang WanderPermission(Reusing this file)GFDL
Permission
: GNU Free Documentation License
The Prairie Warbler is classified as Least Concern. Does not qualify for a more at risk category. Widespread and abundant taxa are included in this category.

The Prairie Warbler, Dendroica discolor, is a small songbird of the New World warbler family. These birds have yellow underparts with dark streaks on the flanks, and olive upperparts with rusty streaks on the back; they have a yellow line above the eye, a dark line through it, and a yellow spot below it. These birds have black legs, long tails, pale wing bars, and thin pointed bills. Coloring is duller in female and immatures. More
Prairie Warbler is found in scrubby fields and forests throughout the eastern and south-central United States, not on the prairies. More
The Prairie Warbler's nests are open cups, which are usually placed in a low area of a tree or shrub. These birds are permanent residents in the southern parts of their range. Other birds migrate to northeastern Mexico and islands in the Caribbean. Prairie Warblers forage actively on tree branches, and sometimes fly around with the purpose of catching insects, which are the main food source of these birds. More
Prairie Warblers appear to be inaptly named, as they occur mainly in successional and other shrubby habitats, rather than the prairies of the Great Plains. They were perhaps named for the savanna-like open grassy woodland of the South, locally called prairies. The Prairie Warbler is one of the species that benefited from human changes to the landscape. More
The Prairie Warbler breeds in southeastern and south-central United States, as far north as New England, and south into Florida. Winters mostly in the West Indies, but also in coastal Florida and coastal Central America including parts of Belize and Costa Rica. It is also a rare, but regular winter visitor in Georgia, South Carolina, and North Carolina. More
Prairie Warbler Habitat Model go to: USFWS Gulf of Maine Watershed Habitat Analysis go to: Species Table Draft Date: October, 2002 Species: Prairie warbler, Dendroica discolor Use of Study Area Resources: Reproduction. The breeding range of the prairie warbler covers most of the eastern United States except for northern New England. The species extends westward to eastern Texas and Oklahoma..." (Nearctica). It winters "... More
Prairie Warbler by Oliver Niehuis 19 November 2005 photo by Oliver Niehuis More
The name Prairie Warbler is a bit of a misnomer, as this species inhabits pine barrens, cedar glades, old pastures, and other shrubby habitats, rather than grasslands. Its habit of bobbing its tail, its distinctive ascending buzzy song along with this habitat preference, makes it a rather easy species to identify. The Prairie Warbler breeds in the eastern United States from eastern Nebraska to central New England southward to the Gulf Coast and Florida. More
The Prairie Warbler is olive green above with two faint rust-colored streaks on the back behind the eyes. The bright yellow underparts have dark streaks and spots on the sides, not unlike those of the Kirtland's Warbler. The face has yellow crescent shaped yellow stripes above and below the eye. The female is similar but has fewer streaks. While perched or foraging the Prairie Warble will pump or twitch its tail. The song is a series of ascending "buzzy" notes. More
* The Prairie warbler was first described 1809 by Louis Jean Pierre Vieillot, a French ornithologist. * Females commonly eat the eggshells after their young hatch. * These birds wag their tails frequently. * A group of warblers has many collective nouns, including a "bouquet", "confusion", "fall", and "wrench" of warblers. More
Prairie Warbler 1 - Galveston Co, TX - April Prairie Warbler 2 - Galveston Co, TX - April Prairie Warbler 3 - Galveston Co, TX - April Prairie Warbler 4 - Galveston Co, TX - April Site Navigation More
Prairie Warbler - Dendroica discolorThe Prairie Warbler is poorly named, as they are primarily found in shrubby dense thickets. Much of their preferred habitat is a result of forest disturbance or the abandonment of farm fields. As these areas eventually progress to a mature forest again, they are forced to find new areas of disturbance to colonize. Habitat: Prefers brushy habitat and thickets, such as second growth forest, forest edges, shrubby forest undergrowth, and brushy fields. More
Prairie Warbler has olive-green upperparts with faint chestnut streaks on back. Underparts are bright yellow, streaked with black on sides of neck and body. We can see two indistinct wing bars. It has a bright yellow eyebrow, and yellow patch below eye, bordered below by a dark stripe. Eyes are dark brown, and it has a dark line through eye. Legs are black. Tail shows large white spots on outer feathers. Female and immature male are slightly duller. More
Prairie Warbler is more often heard than seen and their distinctive, drawn-out buzzy ascending song can be heard late into the summer. Description Predominantly a yellow colored bird with vivid black streaking on the flanks and olive/chestnut markings (most noticeable in males) on the back, it is small headed and long-tailed. Adult male Prairie Warblers also possess a distinctive a black colored half-circle below the eye. Adults are approximately 4.5 - 4. More
Prairie Warbler: Four to five white eggs, with brown spots at large end, are laid in a nest made of grass and leaves, lined with hair and feathers, and usually set low in a bush or small tree. Incubation ranges from 11 to 14 days and is carried out by the female. Foraging and Feeding Prairie Warbler: Eats mostly insects; forages by gleaning foliage, catching insects in mid-air, hovering, clinging to vertical stems, hanging upside down, and feeding on the ground. More
The Prairie warbler is a medium sized warbler that has yellowish-green upperparts and a bright yellow under-surface. Prominent black streaks are confined to the flanks and chestnut colored streaks are apparent (upon close examination) along the back. Two black streaks are on the head (one through the eye, and the other along the jaw). Sexual dimorphism is minor with females having less prominent streaking. Immatures look similar to females. More
vues BerrienMatt — 9 juin 2008 — Singing male prairie warbler on territory in Warren Dunes State Park (Berrien Co), Michigan. May 13, 2008 BerrienMatt — 9 juin 2008 — Singing male prairie warbler on territory in Warren Dunes State Park (Berrien Co), Michigan. More