Bay-breasted Warbler
These birds are migratory, wintering in northwest South America and southern Central America. They are very rare vagrants to western Europe.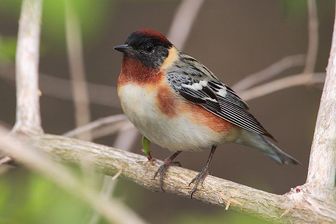 Picture of the Bay-breasted Warbler has been licensed under a
GFDL
Original source
: Own work
Author
: Mdf
Permission
: GNU Free Documentation License
The Bay-breasted Warbler is classified as Least Concern. Does not qualify for a more at risk category. Widespread and abundant taxa are included in this category.

The Bay-breasted Warbler, Dendroica castanea , is a New World warbler. They breed in northern North America, specifically in Canada, into the Great Lakes region, and into northern New England. These birds are migratory, wintering in northwest South America and southern Central America. They are very rare vagrants to western Europe. This species is closely related to Blackpoll Warbler, but this species has a more southerly breeding range and a more northerly wintering area. More
Bay-breasted Warbler Range MapView dynamic map of eBird sightings Field MarksHelp - * Male breedingPopOutZoom In Male breeding * © Brian E. Small * FemalePopOutZoom In Female * © Brian E. More
Bay-breasted Warbler, male on branch More
The Bay-breasted Warbler is a long-distance migrant that breeds across the boreal regions of Canada from the Northwest Territories of Canada east across British Columbia Newfoundland, and Nova Scotia. These birds can also be found breeding in the northern Great Lakes region and northern New England. They winter in Panama, and parts of Costa Rica, Columbia and Venezuela. These birds are part of the More
The Bay-breasted Warbler is a passerine in the family parulidae. This family contains all of the species of wood warblers in the new world. It is in the genus Dendroica – consisting of northern warblers. The Bay-breasted Warbler is one of the largest warblers in Dendroica at about 14cm in length and weighing an average of 13g. More
Breeding: The occurrence of Bay-breasted Warblers is closely correlated with the distribution of spruce and balsam fir forestsBay-breasted Warbler breeding range map in Canada and the U.S. Ninety percent of range lies in Canadian boreal forest, extending west to British Columbia but with the bulk of the breeding population east of Ontario. The remaining 10% breeds in the northern U.S., primarily in Maine. Elsewhere in the U.S., it is considered an uncommon to rare breeder. More
A neotropical migrant, the Bay-breasted Warbler lives in boreal coniferous forests in central and eastern Canada and winters in Panama and northern South America. This species' numbers increase and decrease in correspondence with spruce-budworm outbreaks; pesticides used to control the spruce-budworm may be affecting this bird's overall population. Habitat destruction including tropical deforestation is another concern. Identification A 5. More
The Bay-breasted Warbler, Dendroica castanea , is a New World warbler. Distribution / Range They breed in northern North America, specifically in Canada, into the Great Lakes region, and into northern New England. These birds are migratory, wintering in northern South America. They are very rare vagrants to western Europe. More
The Bay-breasted Warbler has a range of approximately 2.5 million square kilometers. Currently, it is estimated that there is a population of around 3 million individuals . They can be found in numerous countries around the world, particularly in the Caribbean, North America and Central America. It has also been spotted in the United Kingdom and Greenland. The population of this bird has not decreased in the last ten years. Consequently, the Bay-breasted Warbler has a rating of Least Concern. More
Bay-breasted Warbler heads for its wintering grounds from Costa Rica to the northern part of South America. When the male arrives he will defend his territory by singing, however the territories will become constricted when food is abundant as is the case during spruce budworm outbreaks. The clutch consists of 4 to 5 white or off-white eggs marked with brown or black at the larger end. The number of eggs may increase during spruce budworm outbreaks. More
The bay-breasted warbler moves through the trees, hopping from branch to branch, feeding on insects. Habitat and conservation: Bay-breasted warblers spend summers in coniferous forests of the northern U.S. and into Canada. Panama, Venezuela and Colombia are their winter range, where they feed in flocks along woodland borders. More
Bay-breasted warblers are found in woodlands and conifer stands. Diet They eat arthropods and in the winter they eat fruit. Range They summer in Canada and migrate through the eastern part of the United States down to the Panama and northern South America. Other Useful Information The populations of the bay-breasted warbler fluctuate greatly and are highly dependent on spruce budworms. More
Bay-breasted Warbler 11 - Galveston Co, TX - May Bay-breasted Warbler 12 - Galveston Co, TX - May Bay-breasted Warbler 1 - Galveston Co, TX - May Bay-breasted Warbler 5 - Galveston Co, TX - May Bay-breasted Warbler 6 - Galveston Co, TX - May Bay-breasted Warbler 4 - Galveston Co, TX - May Bay-breasted Warbler 9 - Galveston Co, TX - May Site Navigation More
* The bay-breasted warbler is a small bird, about 14 centimetres (five-and-a-half inches) long and weighing about 13 grams (about half an ounce). More
The Bay-breasted Warbler breeds in the boreal coniferous forests in central and eastern Canada and winters in Central America and northern South America. Its populations rise and fall dramatically with outbreaks of spruce-budworm, which form part of the natural cycle in maturing balsam firs. During one outbreak of spruce budworm in New England, population increases up to 300% occurred due to greater clutch sizes and immigration of conspecifics into the area. Typically, population crashes follow outbreak years. More
The Bay-breasted Warbler is one of the more larger warblers measuring about 5-6" long with a wingspread of 8 1/4-9 1/4". They have short, slender, and sharp-pointed bills. The male has chestnut-red throat, upper breast and sides area. The forehead, cheeks and a small space over the eye are deep black. The sides of the neck are yellowish-white. More
Bay-breasted Warbler is unmistakable in spring but goes through a striking transformation in fall, becoming a greenish "confusing fall warbler." Field MarksMale, spring: Dark-looking, with a chestnut throat, upper breast, and sides. Note the large spot of pale buff on the neck. Female, spring: Paler, more washed out. Autumn: Olive green above; two white wing bars; dull buff-white below. May have trace of bay on sides. Buff undertail coverts, dark legs. More