Black-throated Blue Warbler
Adult males have white underparts with black throat, face and flanks; the upperparts are deep blue; immature males are similar with upperparts more greenish. Females have olive-brown upperparts and light yellow underparts with darker wings and tail, a grey crown and a brown patch on the cheek. All birds have a small white wing patch which is not always visible, and a thin pointed bill. Like many warblers, this bird has colorful plumage during the spring and summer, but its fall plumage is drab and less distinctive. In the fall, it can still be identified from other similar warblers by its small white wing patch.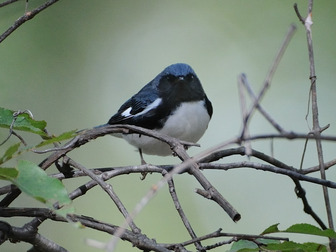 Picture of the Black-throated Blue Warbler has been licensed under a Creative Commons
Attribution-Share Alike
.
Original source
: originally posted to Flickr as Black-Throated Blue Warbler
Author
: Gary IrwinPermission(Reusing this file)This image, which was originally posted to Flickr.com, was uploaded to Commons using Flickr upload bot on 19:08, 19 November 2008 (UTC) by Ltshears (talk). On that date it was licensed under the license below. This file is licensed under the Creative Commons Attribution-Share Alike 2.0 Generic license.You are free:to share – to copy, distribute and transmit the work
The Black-throated Blue Warbler is classified as Least Concern. Does not qualify for a more at risk category. Widespread and abundant taxa are included in this category.

A bird of the deep forest, the Black-throated Blue Warbler breeds in the northeastern United States and southeastern Canada. On migration to its Caribbean wintering grounds it can be seen in a variety of habitats, including parks and gardens. More
The Black-throated Blue Warbler, Dendroica caerulescens, is a small songbird of the New World warbler family. Adult males have white underparts with black throat, face and flanks; the upperparts are deep blue; immature males are similar with upperparts more greenish. Females have olive-brown upperparts and light yellow underparts with darker wings and tail, a grey crown and a brown patch on the cheek. All birds have a small white wing patch which is not always visible, and a thin pointed bill. More
* Black-throated Blue Warbler Information - South Dakota Birds and Birding * Black-throated Blue Warbler - Dendroica caerulescens - USGS Patuxent Bird Identification InfoCenter * Black-throated Blue Warbler Species Account - Cornell Lab of Ornithology * Stamps * Black-throated Blue Warbler videos on the Internet Bird Collection This entry is from Wikipedia, the leading user-contributed More
The Black-throated Blue Warbler is one of the 115 or so species of warblers that occur in the Americas. This species is a medium to long distance migrant that travels from its home range in Cuba, the Bahama Islands and other islands of the Caribbean to the eastern US and Canada to nest and raise one and sometimes two broods. The male Black-throated Blue Warbler is an attractive bird about 4.5 to 5.5 inches long and with a wingspan of from 7 to 8 inches. More
Habitat: Black-throated Blue Warblers breed in large tracks of mature deciduous and mixed forest, with a dense understory, often in mountainous terrain. During migration, they can be found in a variety of forest habitats including forest edge and suburban environments. Diet: Primarily insects, but also some small fruits. Nesting and reproduction: Males occasionally have two mates within their territory. Females are known to sometimes raise 2 broods within a season. Clutch Size: 3 to 4 eggs. More
Wintering Black-throated Blue Warblers are frequently found on coffee farms, with studies noting them using these plantations in Jamaica, Puerto Rico, the Dominican Republic, Haiti, and Chiapas, Mexico. These studies often note that Black-throated Blue Warblers are one of the most common migrants found on the farms. While wintering in coffee farms, Black-throated Blue Warblers consume primarily small insects, many of which are coffee pests. In Jamaica, Black-throated Blues were the number one predator recorded on the dreaded coffee berry borer. More
The Black-throated Blue Warbler is a small songbird native to eastern North America, and is rarely seen in western Europe. These birds breed in deciduous and mixed woodlands, and build their nests in thick shrubs, near to the ground. In the winter, they will migrate to the Caribbean islands and Central America. They are very territorial for nesting and migratory sites within the species. More
Black-throated Blue Warbler is a very rare vagrant to western Europe. As this bird requires large, unbroken forest areas for nesting, its numbers are declining. Black-throated Blue Warbler HenDiet / Feeding These birds forage actively in low vegetation, sometimes hovering or catching insects in flight. Blue-throated Black Warblers often forage in one area for a while before moving on to the next. More
Bent Life History for the Black-throated Blue Warbler - the common name and sub-species reflect the nomenclature in use at the time the description was written. NORTHERN BLACK-THROATED BLUE WARBLER DENDROICA CAERULESCENS CAERULESCENS (Gmelin) HABITS This neatly dressed warbler is one of our commonest migrants throughout the eastern half of the United States, but as a breeding bird it is confined mainly to the northernmost States and to extreme southern Canada, almost wholly within the Canadian Zone. More
The striking black-throated blue warbler is one of the most common breeding songbirds in the extensive northern hardwood and mixed deciduous/coniferous forests of the northeastern United States and southeastern Canada. In summer in the Appalachian Mountains, its buzzy zoo zoo zoo zee song can often be heard drifting from dense stands of rhododendron and mountain laurel. More
Black-throated Blue Warbler Habitat Model go to: USFWS Gulf of Maine Watershed Habitat Analysis go to: Species Table Draft Date: October, 2002 Species: Black-throated blue warbler, Dendroica caerulescens Use of Study Area Resources: Reproduction. "Breeds from the Great Lakes region ...east through southern Canada to the Maritimes. More
The Black-throated Blue Warbler is a fairly common bird of hardwood and mixed deciduous-coniferous woodlands in the northeastern United States and southern Canada, as well as the Appalachian Mountains all the way south to northern Georgia. Considered a forest-interior species, large-scale clearing of forests over the last 300 years likely has impacted population levels, although Breeding Bird Survey data shows stable population trends for the last thirty years. Future deforestation on its Caribbean wintering grounds will likely impact this species. More
the black-throated blue warbler (Dendroica caerulescens), is regulated by multiple density-dependence mechanisms on its breeding quarters. Project description: We are investigating the factors that determine the size of migratory songbird populations. Our focal species for this research is the black-throated blue warbler (Dendroica caerulescens). What is Population Regulation? Scientists have long been interested in how animal populations are controlled, or regulated. More
* Black-throated Blue Warbler At Nest Global Rank: G5 State Rank: SNA Agency Status USFWS: none USFS: none BLM: none FWP Conservation Tier: 4 PIF: none General DescriptionSpecies sexually dimorphic. Males have dark blue back, while their flanks, face, and throat are black; the lower part of underparts white. More
Links to Additional Black-throated Blue Warbler Information * All About Birds Species Account (Cornell Lab of Ornithology) * Wisconsin All-Bird Conservation Plan Other Links Related to Birds * All Bird Plan * Important Bird Areas * Managing Habitat for Grassland Birds * All About Birds (Cornell Lab of Ornithology) * Wisconsin Colonial Waterbird Survey More
Black-throated Blue Warblers eat insects, but also nectar. Behavior - Black-throated Blue Warblers forage slowly in understory or low in trees. Range - Black-throated Blue Warblers breed in southeastern Canada, the northeastern U.S., and the Appalachians. They winter in the Greater Antilles and Central America. The population is stable to increasing. More
* The Song of the Black-Throated Blue Warbler The Song of the Black-Throated Blue Warbler * How to Identify Patterns of Flow Blue China How to Identify Patterns of Flow Blue China * How to Identify Wading Birds by Sight How to Identify Wading Birds by Sight * Origin of Flow Blue China Patterns Origin of Flow Blue China Patterns More
neotropical migrant, the Black-throated Blue Warbler, in an unfragmented temperate forest. Auk 109:321-333. * Holmes, R.T., T.W. Sherry and L.R. Reitsma. 1989. Population structure, territoriality and overwinter survival of two migrant warbler species in Jamaica. Condor 91:545-561. * Holmes, R.T., T.W. Sherry and F.W. Sturges. 1991. More
* BLACK-THROATED BLUE WARBLER at Nanoose Bay: Ralph... More
Browse: Home / Birds / Female Black-throated Blue Warbler at Jamaica Bay Female Black-throated Blue Warbler at Jamaica Bay - By Corey • October 5, 2008 • 5 comments Saturday was sunny and cool, the perfect combination for autumn birding. I spent all morning at Jamaica Bay and had a great time (more on that tomorrow). Especially great was seeing twelve species of wood-warbler, one of my best days of wood-warbler watching all fall. More
The Black-throated Blue Warbler inhabits large tracts of relatively undisturbed hardwood and mixed deciduous-coniferous forests in the northeastern United States and southern Canada, southward along the higher elevations of the Appalachian Mountains to northern Georgia. Most individuals migrate along the eastern seaboard from the Atlantic coast to and including the Appalachians, and most winter in forested habitats of the Greater Antilles—from Puerto Rico to Cuba, Jamaica, and Hispaniola—with some in the Bahamas and a few along the Yucatan coast and Belize. More