Parus palustris
The Marsh Tit Poecile palustris is a passerine bird in the tit family Paridae and genus Poecile, closely related to the Willow, Père David's and Songar Tits. It is small with a black crown and nape, pale cheeks, brown back and greyish-brown wings and tail. Between 8 and 11 subspecies are recognised. This bird's close resemblance to the Willow Tit can cause identification problems, especially in the United Kingdom where the local subspecies of the two are very similar .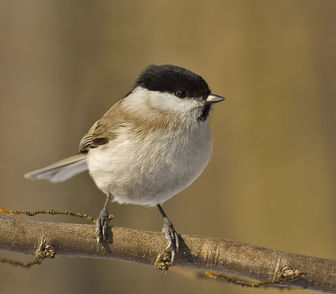 Picture of the Parus palustris has been licensed under a
GFDL
Author
: : Sławek Staszczuk (photoss
Permission
: GNU Free Documentation License
The Parus palustris is classified as Least Concern. Does not qualify for a more at risk category. Widespread and abundant taxa are included in this category.

Parus palustris palustris = Get Babylon's Translation Software! Free Download Now! Babylon 8 - Your all-in-one solution Award winning translation software trusted by millions. Translate from any language to any language. More
Parus palustris brevirostris Taczanowski, 1872 Синонимы - Pentestes palustris L. Poecile palustris L. Parus communis korejewi Zar. et Haerms Parus brevirostris Tacz. More
Parus Palustris; On Tree Stump; Small; Bird; Titmouse; Feathers; Beak; Black Cap; Andy Purcell Rights - Rights Managed Model Release - No Property Release - No Dominant Color - #90B0A0 About fotoLibra fotoLibra is a photo stock agency which everyone can join. More
The Marsh Tit, Parus palustris or Poecile palustris, is a passerine bird in the tit family Paridae. It is a widespread and common resident breeder throughout temperate Europe and northern Asia. It does not breed in Spain, Ireland, Scotland, or the colder northern countries. It is resident, and most birds do not migrate. The head and neck are glossy blue-black; the chin and upper throat are black, the feathers of the latter edged with white. More
Parus palustris click for larger image * Contact and enquiries * Accessibility * Site map * Terms of use * More
Dolocevanje mocvirske sinice Parus palustris in gorske sinice Parus montanus na terenu - Determination of the Marsh Tit Parus palustris and Willow Tit Parus montanus on the field Prispevek k poznavanju gnezdilcev kamnolomov črnokalskega Kraškega roba in Bržanije - A contribution to the knowledge of breeding birds in querries of the Karst edge and Bržanija Prispevek k poznavanju redkih in manj znanih ptic istrske Slovenije - II. More