Parus montanus
The Willow Tit is a passerine bird in the tit family Paridae. It is a widespread and common resident breeder throughout temperate and subarctic Europe and northern Asia. It is more of a conifer specialist than the closely related Marsh Tit, which explains it breeding much further north. It is resident, and most birds do not migrate.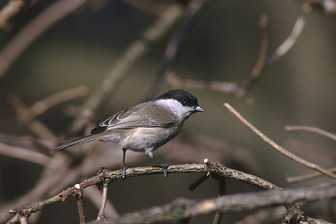 Picture of the Parus montanus has been licensed under a
GFDL
Author
: :Marek SzczepanekLicense:GFDL
Permission
: GNU Free Documentation License
The Parus montanus is classified as Least Concern. Does not qualify for a more at risk category. Widespread and abundant taxa are included in this category.

Parus montanus Conrad von Baldenstein, 1827 * IUCN link: Parus montanus Conrad von Baldenstein, 1827 (Least Concern) Parus atricapillus 1 (Marek Szczepanek).jpg Parus atricapillus 2 (Marek Szczepanek).jpg Parus montanus NRM.jpg Marshtit55.jpg Willow Tit.jpg Retrieved from "http://commons.wikimedia. More
Parus montanus Conrad von Baldenstein 1827 Taxonomic rank Species Taxonomic status valid Taxonomic comment Nomenclature and Synonyms Genus group name(s) Taxonomic comment Parus Linnaeus 1758 no synonyms More