Mangrove Golden Whistler
The Mangrove Golder Whistler or Black-tailed Whistler is an endemic to Australian bird found in mangrove forests and adjacent wet forests.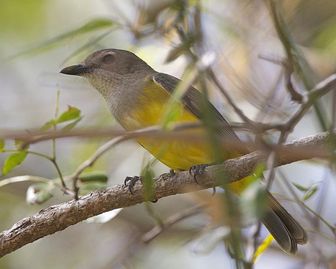 Picture of the Mangrove Golden Whistler has been licensed under a Creative Commons
Attribution-Share Alike
.
Original source
: Lip Kee Yap
Author
: Lip Kee Yap
The Mangrove Golden Whistler is classified as Least Concern. Does not qualify for a more at risk category. Widespread and abundant taxa are included in this category.

International, but is called the Mangrove Golden Whistler in Australia (where it is endemic). © Ian Montgomery; please contact: ian@birdway.com. More
Mangrove Golden Whistler In fact, I am not quite sure this is that certain whistler. Anyway this was a lucky shot when walking around Lake Barrine. More
Mangrove Golden Whistlers would be better known by one of their older names, Black-tailed Whistler, because they are certainly not restricted to mangroves. In Western Australia the subspecies "melanura" is largely restricted to mangroves, but in northern and eastern Australia, the subspecies "robusta" is well distributed in low tropical scrub both on the mainland and especially on offshore islands as far south as Shoalwater Bay in Queensland. More
The following is a photograph of a male Mangrove Golden Whistler at Crab Creek in Broome in September 1992. More
female Mangrove Golden Whistler has yellowish underparts. Where does it live? Distribution The Golden Whistler is found from northern Queensland, around coastal eastern and southern Australia, including Tasmania, to the middle of Western Australia. The Golden Whistler is also found in Indonesia, Fiji, New Guinea and the Solomons. Habitat The Golden Whistler can be found in almost any wooded habitat, from rainforest to mallee, but prefers the denser areas. More