Purple-rumped Sunbird
The Purple-rumped Sunbird is a sunbird endemic to the Indian Subcontinent. Like other sunbirds, they are small in size, feeding mainly on nectar but sometimes take insects, particularly when feeding young. They can hover for short durations but usually perch to feed. They build a hanging pouch nest made up of cobwebs, lichens and plant material. Males are brightly coloured but females are olive above and yellow to buff below.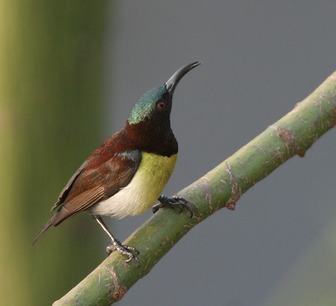 Picture of the Purple-rumped Sunbird has been licensed under a
GFDL
Original source
: Own work
Author
: J.M.Garg
Permission
: GNU Free Documentation License
The Purple-rumped Sunbird is classified as Least Concern. Does not qualify for a more at risk category. Widespread and abundant taxa are included in this category.

The Purple-rumped Sunbird, Leptocoma zeylonica (formerly placed in the genus Nectarinia), is a sunbird. The sunbirds are a group of very small Old World passerine birds which feed largely on nectar, although they will also take insects, especially when feeding young. Flight is fast and direct on their short wings. Most species can take nectar by hovering like a hummingbird, but usually perch to feed most of the time. More
The Purple-rumped Sunbird (Leptocoma zeylonica) is a sunbird endemic to the Indian Subcontinent. Like other sunbirds, they are small in size, feeding mainly on nectar but sometimes take insects, particularly when feeding young. They can hover for short durations but usually perch to feed. They build a hanging pouch nest made up of cobwebs, lichens and plant material. Males are brightly coloured but females are olive above and yellow to buff below. More
Purple-rumped Sunbird on our Sandal tree. Initially we thought that the female was feeding the chicks, however on closer observations we realised that nest decoration (both interior and exterior) was in progress. The female was busy doing this while colourful male would hop from branches to branches singing excitedly. More
Purple-rumped Sunbird Leptocoma zeylonica flaviventris - Female Purple-rumped Sunbird Photographer : More
Purple-rumped Sunbird is a common resident breeder in tropical southern Asia in India, Sri Lanka, Bangladesh and Myanmar. Two to three eggs are laid in a suspended nest in a tree. This species is found in a variety of habitats with trees, including scrub and cultivation. Purple-rumped Sunbirds are tiny at only 10 cm long. They have medium-length thin down-curved bills and brush-tipped tubular tongues, both adaptations to their nectar feeding. More
Purple-rumped Sunbird (Nectarinia zeylonica) Filmed at Kindlebag, Goa, India November 1997 using Canon EX1 Hi8 and Sigma 400mm lens. Purple-rumped Sunbird (Nectarinia zeylonica) Filmed at Kindlebag, Goa, India November 1997 using Canon EX1 Hi8 and Sigma 400mm lens.all » Purple-rumped Sunbird (Nectarinia zeylonica) Filmed at Kindlebag, Goa, India November 1997 using Canon EX1 Hi8 and Sigma 400mm lens.« Download video - iPod/PSPDownload is starting. Save file to your computer. More
For the purposes of our bird news services, Purple-rumped Sunbird is classed as Ungraded: species which are unlikely to appear as wild birds in Britain or Ireland hide section Most recent photos of Purple-rumped Sunbird (4) Baga Hill, Goa, India Baga Hill, Goa, India21/01/2010 Baga Hill, Goa, India 21/01/2010 Bundala Reserve, Sri Lanka Bundala Reserve, Sri Lanka25/02/2009 Bundala Reserve, Sri Lanka 25/02/2009 Chinnar Wildlife Sanctuary, Tamil Nadu, India Chinnar Wildlife Sanctuary, Tamil Nadu, India27/12/2008 More
The Purple-rumped Sunbird (Leptocoma zeylonica), formerly placed in the genus Nectarinia, is a sunbird that is part of a group of very small Old World passerine birds. It is a common resident breeder in tropical southern Asia in India, Sri Lanka, Bangladesh and Myanmar. This species is found in a variety of habitats with trees, including scrub and cultivation. Purple-rumped Sunbirds are tiny at only about 4 inches long. More